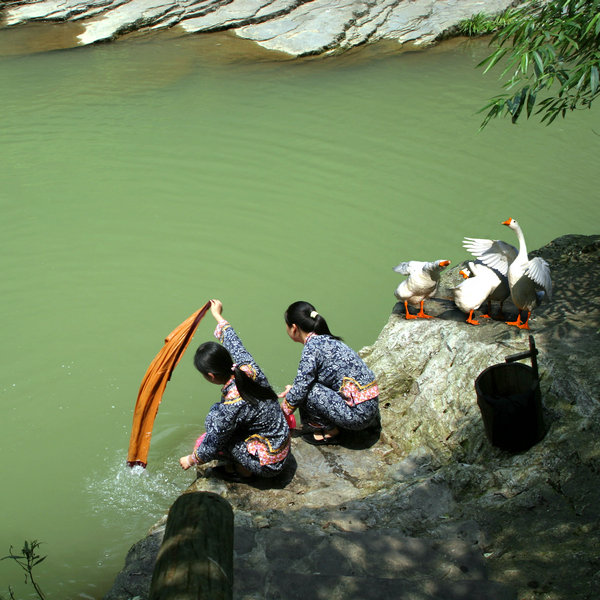 Women in traditional blue outfits wash clothes along the edge of Longjing Brook.[Photo provided to China Daily]
Sandouping town in Yichang of Hubei province is a rare example of a man-made wonder with natural beauty.
Situated along the midsection of the Yangtze River, the town boasts two areas with the highest grade under China's tourist attraction rating system.
The two areas with the 5A ratings are the Three Gorges Dam, the largest water project in the world, and the Tribe of the Three Gorges area, a picturesque landscape corridor.
Thanks to its unique location, the town is an important stop along the Three Gorges section of the river.
The town's only main street extends along the Yangtze, and we stayed in a guesthouse on the street, which offered a nice view of the river.
In contrast to the turbid water in the lower reaches of the Yangtze, the section here is clear and quiet. On our second morning there, a light haze hung over the river, obscuring the view of buildings on the other bank.
After breakfast, we set out for the Tribe of the Three Gorges area, which turned out to be a good place to appreciate the quiet valley and local culture.
Visitors typically take a ferry boat from the opposite bank of the Yangtze River to the valley entrance, which is connected to the river. Before entering the valley, we were able to enjoy a show that recreated a scene of boat trackers on the bank pulling a traditional sailboat with ropes.
Trackers toiling along the river while singing work songs were a common sight in the region in the old days.
We then follow a wooden corridor into the valley. It extends along the Longjing Brook, whose mirror of light-indigo-blue water is half hidden under thick clumps of bamboo.
It seems an idyllic world undisturbed by strangers walking by.
On the brook, a covered boat moves slowly amid soft ripples with a young girl in a striking red traditional costume standing on it holding an umbrella. Not far from the boat, a man sits quietly on a raft, fishing with a bamboo rod.
For a moment, we feel as if we are in a painting, until we are awakened by a folk song that suddenly starts to resonate in the valley.
We follow the sound and the scenes change as we walk along: A fisherman mends his net on a boat, girls in traditional blue outfits wash clothes along the edge of the brook in front of their wooden houses on stilts, and young couples stand on the mossy stone bridge in the village.