Beijing to expect 1.8m visitors in upcoming holiday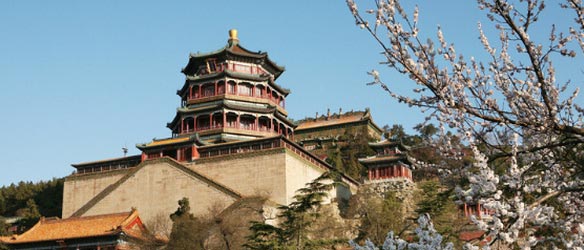 The Summer Palace. [Photo/Weibo]
Beijing is expecting 1.8 million visitors during the upcoming holidays, with peaks from 10:00 am to 15:00 pm on May 1 and 2, according to Beijing Municipal Administration Center of Parks. The Center released a list of maximum capacities for numerous tourist sites in Beijing. If it approaches the limit, one-way traffic routes will be used to mitigate the congestion.
The Center will monitor tourist volume four times a day in two-hour intervals starting at 10:00 am and release the data on its Sina Weibo account. Visitors are encouraged to check data updates prior to visiting to avoid peaks.
The Center also released data on maximum tourist capacity for many tourist sites yesterday. If the volume of visitors reach the limit (such as 400,000 for Ti'anmen Square) within the same time frame, one-way traffic routes will be set up at locations including gates and bridges to relieve congestion. Visitors are also encouraged to try visiting some of the less famous sites.
Related:
Going abroad? Don't forget your instant noodles
Nanjing's biggest private garden to open for May Day holiday