Tourist numbers fall over Beijing smog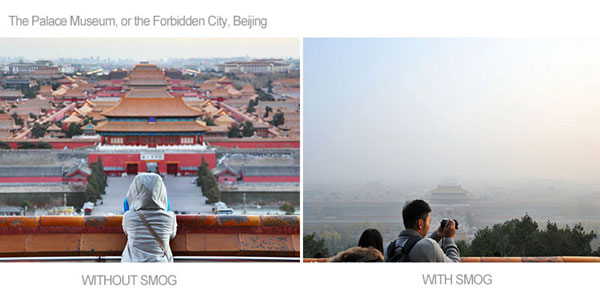 As the smog orange warning persists, tourist attractions in Beijing are experiencing a significant decline in visitor turnout.
A new report launched by Beijing authorities on the morning of February 24 indicates that the concentration of PM 2.5 has risen, with no sign of it decreasing,the orange warning will still be in effect, according to Xinhua News Agency.
According to data released by the Beijing Tourism Website, by 2:00 pm, February 24, popular scenic areas including The Great Wall and Palace Museum had been affected by the smog in terms of tourist numbers.
As for the Palace Museum, the number of visitors was only 11,200 that day, far from the figure of 40,000, which is the daily average number of visitors it normally receives.
There were a few visitors in Beihai Park on the morning of February 24, and two visitors from Hebei province plan to end their morning tour earlier than scheduled because of the smog with one of them saying "The visibility is poor, we can't take good photos, we'd better leave early."
In response to worsening air conditions, travel agencies have also taken the initiative to avoid a further decline in tourist numbers.
An employee with China Youth Travel Service, Wang Tao, said the agency will notify tourists of the weather conditions at their destinations.
A tour guide with China Travel Service also told the media that it is a tour guide's obligation to inform foreign visitors of the smog conditions in Beijing, and the agency will provide free face masks to those in need.