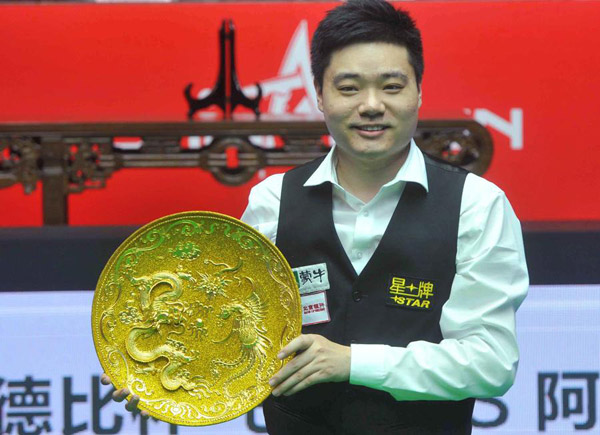 China's Ding Junhui displays his trophy after beating world No 1 Neil Robertson to win the 2014 World Snooker China Open in Beijing, April 6, 2014. [Photo/Xinhua] 
BEIJING - Chinese
snooker
ace Ding Junhui tied snooker legendary Stephen Hendry's five ranking title record during one season after overcoming world No 1 Neil Robertson 10-5 in
China Open
final on Sunday.
This title also marked Ding's personal second in this tournament after winning in 2005, the first year when it was settled down in Beijing.
Before the China Open, Ding has won titles in Shanghai Masters, Indian Open, International Championship and German Masters.
"Robertson showed toughness, especially during the second half. I felt much energetic from the start, concentrated on restraining his performance and tried to score as many as I could, which paid off during the second," said Ding.
In the best-of-19 final, Ding built up a comfortable 7-2 lead after the first half, making the second less vague on Sunday night.
"I suffered few turnovers in the first. I didn't play at the same level as that in the second, while trying to reduce his chances," said the 2014 China Open champion.
After Ding took the first two frames with breaks of 87 and 61, both sides had an intense third frame.
Ding had 48 points in a row, before his opponent came back to make it 58-60, leaving the last black on the table.
Then Robertson missed the most crucial black, slipping away chances to Ding for "killing" this frame 67-58.
Robertson pulled one frame back with a top break of 102 in the eighth, while suffering turnovers shortly afterwards, giving Ding another chance to enlarge the margin again.
Robertson and Ding halved the first four victories during the second half, giving Ding the champion point after the 13th frame.
The world top snooker player saved one championship point with a 74-9 win in frame 14, before Ding finally secured the victory with 66 points in a row.
"Before this match, I know it would be an intense one, and there would be few chances for me to win. Ding played well today," said Robertson.