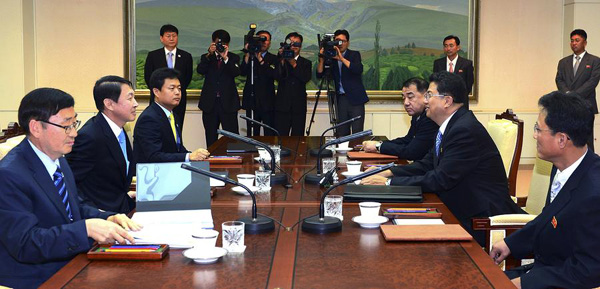 Kwon Kyung-sang (2nd L), secretary general of the Incheon Asian Games Organizing Committee, meets with Vice-Chairman of the DPRK's Olympic Committee Son Kwang Ho (2nd R) during their talks on the DPRK's participation in the Asia Games, at the Peace House on the southern side of the truce village of Panmunjom in the demilitarised zone separating the two Koreas, in this picture provided by Unification Ministry and released by Yonhap on July 17, 2014. [Photo/IC]
PYONGYANG - The Democratic People's Republic of Korea (DPRK) said Wednesday it is preparing for the 17th Asian Games and hopes its players and cheering squads would make the Asiad more enlivened and contribute to mending the stalled inter-Korean relations.
The South Korean authorities should not doubt the sincerity of the DPRK to participate in the games and to contribute to national reconciliation and unity, a spokesman for the DPRK's Committee for the Peaceful Reunification of Korea said in a statement.
If the DPRK's players and cheering squads are eventually unable to take part in the Asiad, it will be an indelible disgrace for all Koreans and their generations to come, the spokesman said.
On July 17, the two countries held working-level talks at Panmunjom to discuss specific issues concerning the participation of the DPRK's delegation to the 17th Asian Games slated for Sept 19-Oct 4 in Incheon, a port city in South Korea, but no agreement was reached, according to media reports.