Sun Yang awarded for outstanding contribution to swimming in China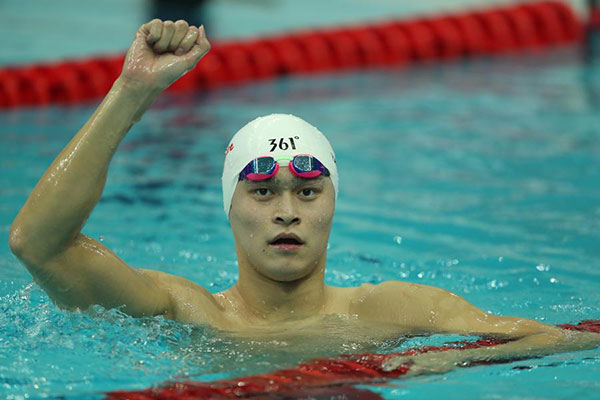 Sun Yang at the National Games in Tianjin, on Sept 4, 2017. [Photo/Xinhua]
SANYA, China - Chinese swimming star Sun Yang received the award for Outstanding Contribution to Swimming Popularity in China at the FINA World Aquatics Gala 2017 on Saturday night in Sanya city of South China's Hainan province.
As one of the most decorated Chinese swimmers in history, Sun had shone once more at the FINA world championships in Budapest where he won the men's 200 meters freestyle and men's 400 meters freestyle titles and set a new Asian record in the 200 meters.
Since then, Sun's World Championships medal tally increased to 14, including 9 gold medals.
"This award is certainly an encouragement to me," said Sun.
"I'd like to extend my sincere appreciation to FINA, an organization that endeavors to promote swimming worldwide all these years. It not only gives us athletes a level playing field but also spreads the glamour of swimming to all corners of the world. It's my great pleasure to be part of this great cause," he said.
Sun Yang also expressed his special thanks to his family, friends and mentors.
Most Popular
Highlights
What's Hot