Ledecky learning to let experience work its magic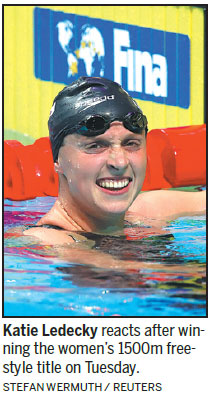 BUDAPEST - Katie Ledecky, the brilliant 20-year-old American freestyler, is now older and wiser when it comes to completing one of swimming's most punishing session schedules.
At the 2015 world championships in Kazan, she competed in the 1500m final - an event now on the program for the Tokyo 2020 Olympics - and less than 30 minutes later she swam in the 200m freestyle semis.
In Russia, she said her legs had turned to jelly in her debut attempt at the feat when she qualified only sixth fastest for the 200 final.
But she won gold in the distance event at the world championships on Tuesday before stretching every last sinew to ease into the 200 final with the quickest time.
"The experience of knowing how it went two years ago, I knew I could do it again," Ledecky said at a post-race media conference.
She became the most decorated woman in world swimming following a hat-trick of world 1500m golds, surpassing compatriot Missy Franklin's 11 global titles.
The five-time Olympic gold medalist went straight to the warm-down pool and swam around 900 meters before being pulled out by her coaches to prepare for the victory ceremony and the 200m free semis.
"You look over at the scoreboard, see your time, see your place, then kind of try to focus on the next race doing what I need to do to get ready for that," Ledecky said.
Ledecky is content riding her bike at Stamford University in preference to the ordeal of passing her driving test.
"But it's hard through 364 other days of the year. It's putting in the work in practice so when I get up to this day I can just do it," she said.
"It's routine like this and to know that I have the work in the bank to get up and swim those times."
Nearing the halfway mark in Budapest, Ledecky is well on the way to completing her scheduled 6,300 meters of competitive swimming this week and she topped qualifying for Wednesday's 200m freestyle final, beating the likes of Hungary's Katinka Hosszu.
Little wonder that Spain's Mireia Belmonte, who won 1500m silver behind Ledecky, is in awe of the American.
"When you swim with Ledecky it is like from another planet. People from this planet are different," Belmonte said.
Reuters