Zhou Qi aims for the stars with Rockets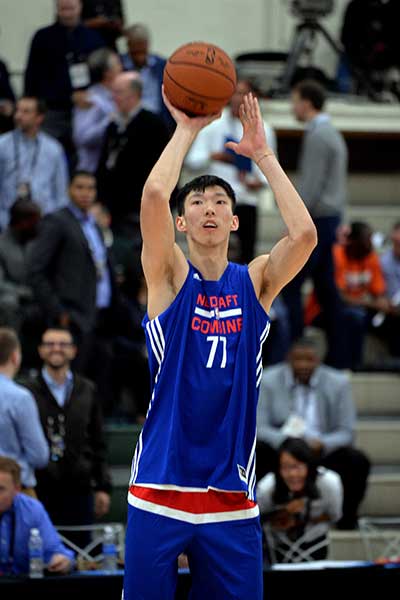 Zhou Qi shoots during the 2016 NBA Draft Combine in Chicago, Illinois. Randy Belice / Getty Images
China's young basketball talent Zhou Qi has embraced the challenge of charting his own path in the NBA after signing with the Houston Rockets, retired star Yao Ming's former team, to become the league's sixth Chinese player.
The Rockets, which picked Zhou 43rd overall in the 2016 NBA Draft, officially announced on Friday that the team had signed Zhou, 21, to a multiple-year contract after the Chinese national team center spent three years playing with the Xinjiang Flying Tigers in the Chinese Basketball Association.
Zhou will follow retired stars Yao, Wang Zhizhi and Mengke Bateer and join current national teammates Sun Yue and Yi Jianlian to become China's sixth player in the NBA.
Zhou, who has been training with the Rockets' coaching staff in Houston since leading Xinjiang to win the 2016-17 CBA title in March, said in a statement that he feels honored to be able to fill Yao's big shoes.
"I appreciated the opportunity offered by the Rockets organization to fulfill my childhood dream to play in the NBA. I feel very privileged to follow in the legendary predecessor Yao's footprints to join the same team he played on before," said Zhou.
The Chinese Basketball Association sent a congratulatory letter to Zhou and his family, encouraging him to build his own identity in the highly competitive league.
"We wish he will gain a firm foothold in Houston and make his own impression by playing hard with the Rockets. We hope he can further contribute to the China-US cultural exchange as a hoop ambassador from China," the CBA said in the letter.
The CBA also pledged that it will support more young talent to play overseas in the future.
The Rockets didn't disclose the financial terms of Zhou's contract, but the team made no secret of its hefty expectations for the versatile player.
"We feel Zhou Qi has the potential to become the best Chinese player since Yao Ming," said Daryl Morey, the Rockets' general manager.
"We're excited to have him join the Rockets and will continue to develop his talents with our coaches and training staff."
Standing 2.17 meters tall with a wide arm span, Zhou features a versatile game with excellent mobility for his size, a long shooting range and rim-protection ability that make him a theoretical fit in Rockets' head coach Mike D'Antoni's style of fast play, which relies on shooting, ball movement and agile defense.
Still, the thin body frame of Zhou, who weighs only about 98 kilograms - even lighter than the team's point guard, James Harden - has raised questions about his strength to survive in the tough NBA, observers said.
"Whether Zhou could play his game to the fullest now seems to rely heavily on if he can improve his strength by putting on about 10 kilograms of muscle," said Yang Yi, basketball commentator with qq.com.
sunxiaochen@chinadaily.com.cn
Most Popular
Highlights
What's Hot