May weather coy about accepting McGregor bout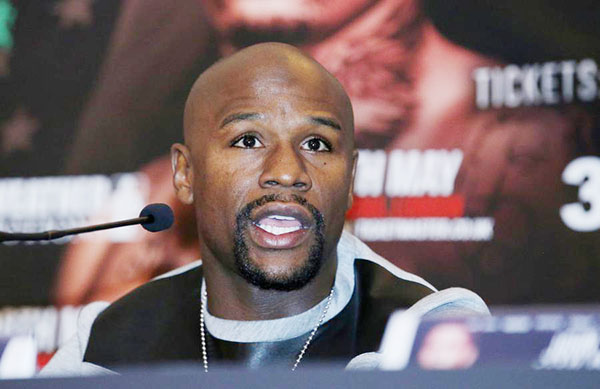 Floyd Mayweather during the Gervonta Davis & Liam Walsh Press Conference at the Landmark London on May 18, 2017. [Photo/Agencies]
LONDON-Boxing legend Floyd Mayweather Jr said on Saturday that if and when he decides to come out of retirement, a fight against UFC champion Conor McGregor is "90 percent" likely.
The undefeated five-division world champion, who has not boxed in almost two years, said he wants to fight Ireland's McGregor rather than another boxer because it would attract global interest and could set new records for pay-per-view revenue.
UFC lightweight champion McGregor, 28, last week applied for a boxing licence in Nevada and there has been mounting speculation the pair will meet in the ring later this year.
Mayweather, 40, broke his silence on ending his retirement and trying to extend his perfect record to 50-0 against McGregor, who has a UFC record of 21-3.
"If I do fight again, there's a 90 per cent chance it's against Conor McGregor," Mayweather told a Saturday media conference at the Copper Box Arena in London.
"The only sort of numbers I worry about are pay-per-view numbers. I have to see what the next move is."
Critics have claimed it would be a mismatch, but Mayweather insists it is the biggest fight to be made in boxing and mixed martial arts.
"The only fight that makes sense to me is the McGregor fight," Mayweather said.
"I've accomplished everything I want to accomplish. McGregor is professional and so am I. He's a stand-up fighter and I'm a stand-up fighter.
"He kicks ass in the octagon and I kick ass in the boxing ring.
"The fans demand that fight and you have to give the fans what they want to see."
Mayweather, by far the world's highest-paid athlete before he retired following his win over Andre Berto in September 2015, will discuss fighting McGregor with his advisers when he returns to the US next week.
"I'm over here right now, working, always working," said Mayweather, who pocketed $225 million for outpointing Manny Pacquiao in boxing's all-time richest fight in May 2015.
"When I get back to the US I will call Al Haymon and see what our next move is. There's no rush. I have to put my team together.
"Most likely when we do make the move, it's going to be a very huge move. When Floyd Mayweather fights, it's history.
"The only thing I'm chasing right now is my own record. When the times come I will get the team together."
WBA orders rematch
Meanwhile, the World Boxing Association (WBA) has ordered a rematch of its middleweight world title fight between Hassan N'Dam and Ryota Murata after N'Dam was awarded a contentious decision in Tokyo on Saturday.
Cameroon-born N'Dam was sent to the canvas in the fourth round after being caught by a powerful right cross and seemed to be in survival mode for the rest of the contest, but two of the three judges gave the win to the 33-year-old.
"After judging the bout, my scorecard was 117-110 for Murata," WBA president Gilberto Jesus Mendoza said in a statement.
"First of all, let me apologize to Ryota Murata, Teiken Promotions and all Japanese boxing fans.
"There are no words to repair the damage. I will order the championships committee to demand an immediate rematch.
"I am disappointed with the controversy. My goal is to have clear decisions and prove transparency to all boxing fans."
The loss was 2012 London Olympics gold medalist Murata's first as a professional after 12 straight wins, while N'Dam improved his record to 36-2.
AFP