BOSTON - Tom Brady's missing Super Bowl jersey has been found in Mexico, six weeks after it vanished from the Patriots' locker room.
But the mystery isn't over.
The NFL said the jersey was found in "possession of a credentialed member of the international media," and authorities are investigating whether a former Mexican tabloid newspaper executive played a role in the theft.
The jersey wasn't the only piece of memorabilia recovered. Authorities also found a Brady jersey that had gone missing after the Patriots' 2015 Super Bowl win over the Seattle Seahawks, and a helmet belonging to a member of the Denver Broncos was also discovered, NFL spokesman Brian McCarthy said.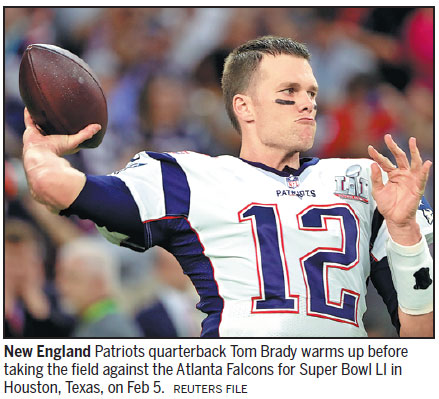 The stolen jersey - and the investigation that stretched from Texas to Boston - captivated Patriots fans and social media for several days after the Patriots' 34-28 overtime win over the Atlanta Falcons.
"If it shows up on eBay or something, somebody let me know," Brady said after the game.
Houston police investigators relied on a tip from an informant to trace the jersey - estimated to be worth as much as $500,000 - to Mexico.
US and Mexican officials have not identified the suspect, but the name of a former newspaper director was widely circulated in Mexican news media and on social networks.
A Mexican government official, speaking on condition of anonymity because of the sensitivity of the case, said the attorney general's office participated in the investigation and obtained a search warrant.
The jersey and other items were found on March 12, the official said.
The newspaper's owner, Organizacion Editorial Mexicana, issued a statement saying the director resigned two days later for "personal reasons."
The paper said that if the accusations are true, it "strongly condemns the employee using his position to obtain a media accreditation to be able to access the field, news conferences and other areas of NRG Stadium."
A company official who was not authorized to discuss the matter publicly told Associated Press on condition of anonymity that the former director was not part of the media outlet's Super Bowl coverage.
"He got accredited on behalf of La Prensa, but he took a vacation. He was not sent by us," the official said. "They were not even aware that he had gone to the Super Bowl."
The former director handed over his company phone when he resigned last Tuesday, the official added.
No arrests have been made, and AP is not identifying the suspect because he has not been charged.
Brady, in a statement from his agent, Don Yee, expressed gratitude to investigators but said he hadn't yet been reunited with the jerseys.
"I am happy my jerseys from SB 49 and SB 51 have been recovered, and I want to thank all of the law enforcement agencies involved," Brady said.
Associated Press