Enrique encouraged as Gomes goal mutes jeers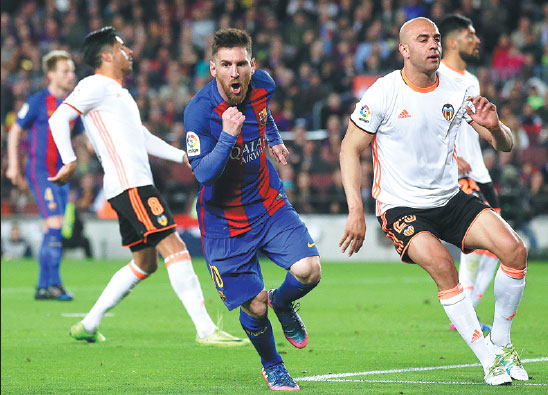 Barcelona's Lionel Messi celebrates scoring the second of his two goals in Sunday's 4-2 La Liga victory over Valencia at Camp Nou in Barcelona. The triumph moved Barca to within two points of leader Real Madrid. Manu Fernandez / Ap
BARCELONA - Barcelona coach Luis Enrique said midfielder Andre Gomes will become a pillar of the Catalans' midfield after silencing his critics with his first goal for the club in a 4-2 win over Valencia on Sunday.
Enrique has been criticized for keeping faith with Gomes despite the 23-year-old's underwhelming performances since moving from Valencia last July for a fee that could rise to $59 million.
"Andre Gomes will be a very valuable player for Barca in the future, you will see," said Enrique, who is stepping down as coach at the end of the season.
"He combines unique physical and technical abilities for a player of his profile."
The Portuguese has been roundly jeered by Barca fans in recent weeks, but, despite some whistles on Sunday, the majority at Camp Nou backed his introduction for Rafinha in the 16th minute.
Barca defender Gerard Pique had angry words for those not supporting his teammate.
"The whistling of Andre Gomes is intolerable," said the Spain international.
"Those who come to whistle should stay at home."
Pique's stance was seconded by Enrique, who claimed only the confidence of having the fans' backing will allow Gomes to show his true potential.
"There is nothing more necessary for a player than to have the support of his fans," said Enrique.
"Having that will mean we will see the best of him in the future."
Barca closed to within two points of Real Madrid at the top of La Liga as Lionel Messi scored twice in the win over 10-man Valencia on Sunday.
Most Popular
Highlights
What's Hot