After win vs PSG, Barcelona loses Spanish league lead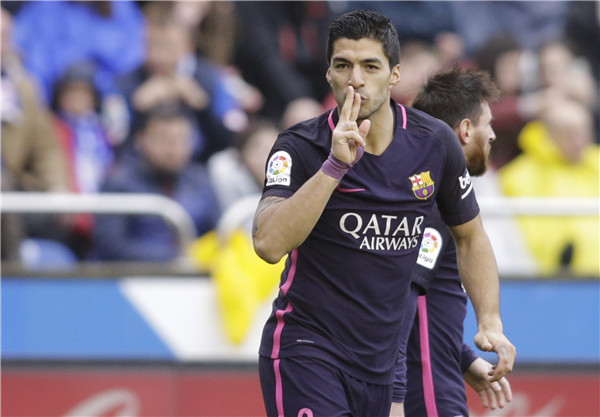 Barcelona's Luis Suarez celebrates after scoring first goal during the game between Deportivo and Barcelona on March 12, 2017. [Photo/Agencies] 
MADRID — Real Madrid saw Barcelona falter and then survived an awful mistake by goalkeeper Keylor Navas to regain the Spanish league lead on Sunday.
Barcelona lost 2-1 at relegation-threatened Deportivo La Coruna in its first match after its amazing win over Paris Saint-Germain in the Champions League, and Madrid took advantage with a come-from-behind 2-1 win over Real Betis, despite an own-goal by Navas.
Cristiano Ronaldo equalized before halftime and Sergio Ramos netted an 81st-minute winner for Madrid at the Santiago Bernabeu Stadium after Navas had pushed the ball into his own net while trying to regain control following a close-range shot.
Navas made amends with a superb save two minutes into second-half injury time to secure Madrid the victory and a two-point lead over Barcelona, whose 19-game unbeaten streak in the league ended in La Coruna.
"It's part of the game, everyone makes mistakes," Madrid coach Zinedine Zidane said of Navas. "In the end he saved us. The save he made has given us the three points."Without some of the starters from the 6-1 victory over PSG in the Round of 16 on Wednesday, which reversed a 4-0 first-leg loss, Barcelona lacked the same intensity that it had at the Camp Nou.
"We knew that they were coming off an intense game in the Champions League and I think it showed," La Coruna midfielder Alex Bergantinos said. "I think you could notice their weariness from the match against PSG."Barcelona coach Luis Enrique didn't start Rafinha, Samuel Umtiti and Neymar, who was decisive on Wednesday with two goals and two assists. Andres Iniesta and Ivan Rakitic only entered Sunday's match in the second half.
"We struggled from the start," Luis Enrique said. "There is no justification for the loss. We have to accept it and understand that there are still a lot of rounds left in the league."The coach said he didn't think his players had struggled to get back to reality following the PSG game.
"Only those who went through what we went through this week can understand what it meant," Luis Enrique said. "But we knew that nobody will make it easy for you and that it would be hard to win points here."Striker Joselu opened the scoring for Deportivo in the 40th with a close-range shot after Barcelona defender Javier Mascherano failed to clear a loose ball inside the area after a corner.
Luis Suarez equalized less than a minute into the second half with a right-foot strike, but the hosts went ahead again in the 74th with a firm header by Bergantinos off another corner.
Bargantinos has only four career goals in the first division, with three of them coming against Barcelona.
Deportivo, which had won only one of its last 10 matches, moved to 15th place with 27 points, eight clear of the relegation zone.
Most Popular
Highlights
What's Hot