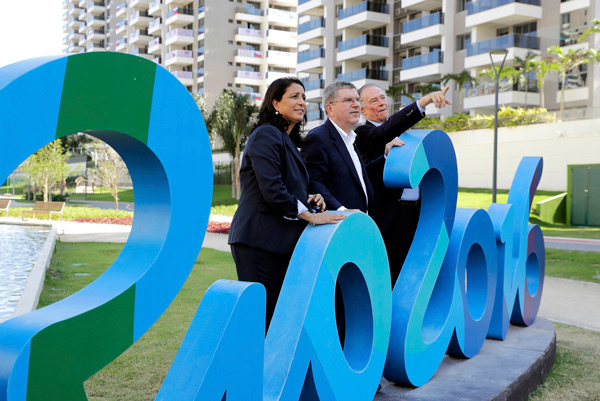 International Olympic Committee President Thomas Bach, center, poses in athletes village between Nawal El Moutawakel, left, head of the IOC's evaluation commission, and Brazil's Olympic Committee President Carlos Nuzman in advance of the 2016 Olympic Games in Rio de Janeiro, Brazil, August 1, 2016. [Photo/Agencies]
RIO DE JANEIRO - The Rio Paralympics will strive to promote "a fairer, more fraternal world" while changing perceptions of people with disabilities, the head of the Rio 2016 organizing committee said on Wednesday.
The first Paralympic Games in South America began with a spectacular four-hour opening ceremony before more than 50,000 spectators at a rain-soaked Maracana stadium.
"We celebrate a great challenge today - to build a new world, more accessible to all," Rio 2016 president Carlos Nuzman said during a speech.
"Fairer, more fraternal, where all are able to walk hand-in-hand with no obstacles. It is a difficult mission, which makes us stronger," he added.
Philip Craven, the president of the International Paralympic Committee (IPC), said recession-hit Brazil could draw inspiration from the feats of Paralympic athletes.
"In a country which has faced major challenges of late, Paralympians will switch your focus from perceived limitations to a world full of possibility and endless opportunity," Craven said. "They will surprise you, inspire and excite you, but, most of all, they will change you."
Among the highlights of the ceremony was a stunt in which wheelchair athlete Aaron Wheelz sped down a 17-meter ramp before completing a stunning reverse somersault.
Later, disabled dancer and Paralympic athlete Amy Purdy showed why machines cannot replace the creativity and spontaneity of humans by winning a dance-off against a robot. The US snowboarder sent the crowd into raptures with a routine that mixed contemporary dance with samba.
The ceremony reached a climax when swimmer Clodoaldo Silva made his way to the top of a large ramp in his wheelchair to light the flame.
Some 500 professionals, including choreographers and artists, and 2,000 volunteers were involved in the show. Over 4,000 athletes from 160 countries and regions took part in the parade.
Earlier on Wednesday, Craven said ticket sales for the 11-day Paralympics had reached almost 1.7 million, having risen from 300,000 less than three weeks ago.
Organizers are hoping to overtake the 2.4 million tickets sold at the Beijing 2008 Games.