To win a gold medal in taekwondo without doing much fighting is an accomplishment.
That's pretty much how China's Zheng Shuyin took the women's heavyweight title in a slow-paced final against Mexico's Maria Espinoza on Saturday night.
Both fighters often appeared unwilling to engage and were penalized for passivity.
But Zheng's cautious, defensive approach ultimately allowed her to beat Espinoza 5-0. The Chinese fighter's six-inch height advantage kept Espinoza at a distance while she used her longer legs to score quick points.
"I had this goal to become the Olympic champion, but I knew it would not be easy," Zheng said, adding that she hadn't yet decided how she would celebrate.
The match lacked any of the more spectacular spinning techniques that taekwondo is known for, with Espinoza attempting to score mainly by punching.
Zheng said she fights defensively because she fears her opponents will be faster than she is and may have adopted strategies to counter her spinning kicks.
"Maybe I need to change my strategy to improve my score in the future," she said.
Espinoza had won two Olympic medals - a gold in Beijing in 2008 and bronze at the 2012 London Games.
Zheng, 22, won a bronze at the Asian championships in April. Her Olympic gold was China's second in taekwondo at these Games, after her boyfriend, Zhao Shuai, took the 58kg division on Wednesday.
The women's bronze medals were won by Britain's Bianca Walkden and Jackie Galloway of the US.
In the men's 80kg-plus division, Azerbaijan's Radik Isaev took the gold by defeating Niger's Abdoulrazak Issoufou in a cagey final that saw both fighters struggle with their timing and distance.
Isaev won by 6-2.
Isaev, 26, is the world champion and was the only fighter able to challenge Issoufou on the mat on Saturday.
Although Issoufou is 6-foot-5, Isaev is just two inches shorter and was able to find ways to counter Issoufou's long reach and swinging head kicks.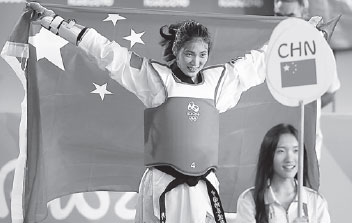 China's Zheng Shuyin celebrates defeating Mexico's Maria Espinoza in Saturday's+67kg taekwondo final. Robert F. Bukaty / Ap
(China Daily 08/22/2016 page4)