Nine years ago, Zhu Ting had a choice to make.
She could take the road outside her village leading to Anhui and Jiangsu provinces and settle for a normal life, or she could set her sights on growing up to become a key spiker on China's women's national volleyball team - and MVP at the Rio Games.
On Saturday, Zhu powered China to a 3-1 victory over Serbia in the gold medal final and finished as the tournament's top scorer with 179 points - including 33 in the semifinals against the Netherlands.
The 21-year-old was born in Zhudalou, a village in Henan province, the third child in a farming family.
In an interview with Henan Business Daily, her father, Zhu Anliang, said the land could not support the family and he had to supplement his income by repairing auto-mobiles.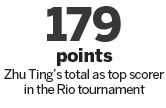 By the time Zhu Ting turned 13 in 2007, she stood 5-foot-9. Her choices were limited to finding a job in a factory in Jiangsu or enrolling in a local sports academy.
"Our family was in debt more than 100,000 yuan ($15,077) when our first child was born, but the situation had improved by the time Zhu Ting came along and I had the money to support her at Zhoukou City Sports School," Zhu Anliang said in the interview.
He had no idea what kind of sports his daughter might be drawn to ... he only knew she was unusually tall.
During the first few months of training, Zhu Ting's longing for home often drove her to tears, and her mother, Yang Xuelan, considered asking her to quit. But both parents realized the academy represented a golden opportunity for their daughter to start a new life.
"When I went to visit she always told me, 'Daddy, I can only hang on for another week,'" said Zhu Anliang.
"But week after week, she was chosen from the city team to the provincial team, so I had to take more part-time jobs in order to earn money to support her."
He said three years of Zhu Ting's training cost the family around 126,000 yuan.
"Training was difficult for every teenager in the sports school, but they had some fun on the weekends by going shopping or eating in fancy restaurants," Zhu Anliang said.
"But my daughter always stayed in the school. She never wasted money."
Now that Zhu Ting is an Olympic champion, the whole village is very proud of her. And for every televised game from Rio, Zhu Anliang provided commentary for the villagers.
To "see" his daughter more often, he has her photo as the wallpaper on his mobile phone.
"When she was a little girl, our family was so poor that we could not afford a photo of her," Zhu Anliang said.
"Now our lives are better. But when she comes back to the village, she is still just an ordinary farm girl from an ordinary farmer's family."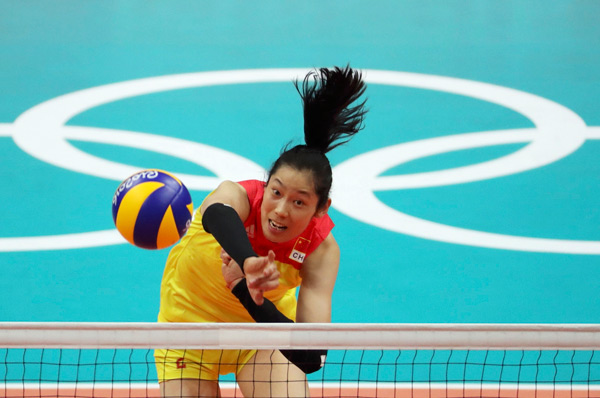 China's Zhu Ting spikes during Saturday's victory over Serbia. Ricardo Moraes / Reuters