Mercurial star finally silences nation of critics
Just two weeks ago, Brazil fans were questioning Neymar's commitment to the Olympic team.
Now he's a national hero - and an Olympic champion.
Neymar buried the winning kick in a penalty shootout against Germany on Saturday at the Maracana Stadium, sending all of Brazil into delirious celebration.
The cheering could be heard on Rio's famed Copacabana Beach, where fans chanted "Campeoes!" (champions).
Neymar sunk to the pitch on his knees as his teammates engulfed him.He stayed on the ground for several moments, sobbing,while they celebrated.
"This is one of the happiest things that has happened to me," he said moments later.
It was Brazil's first soccer gold medal, and it came on home soil.
For Neymar, it was a seminal moment. Some were already asking whether his name should be added to the list of Brazil's greats, joining Pele, Zico and Ronaldo.
Brazil coach Rogerio Micale said it was too soon to put Neymar in that bracket, suggesting his next step is a World Cup title. But he still had great praise for the charismatic 24-year-old striker who plays for Barcelona and is considered among the best current players in the world.
Neymar has been an integral part in Barcelona's recent success, alongside Lionel Messiand Luis Suarez.
"He's a leader on the national team - dedicated, "Micale said. "Now that we've finished this tournament, I have the best possible impression of Neymar. The whole team does."
The men's tournament attracted most of the attention of Brazilian fans at the Games.
The nation's soccer federation took the tournament very seriously, bringing in Neymar and many talented youngsters who are expected to be on the main squad for the 2018 World Cup in Russia.
Neymar did not play in the Copa America in order to focus on Rio. The Olympic tournament is contested among under-23 teams, but they can each bring in three players from the senior national squad.
Still, the Olympics started disastrously for the host. Brazil struggled with scoreless draws against South Africa and Iraq and was even in danger of missing out on the knockout round.
Neymar was heavily criticized by Brazilian fans who saw the women's team, and particularly star Marta, get off to a fast start in contrast.
Some fans even crossed Neymar's name off their No 10 jerseys and wrote Marta's on instead. Neymar was taunted, with fans shouting Marta's name at his matches, while Marta was honored with fans chanting "better than Neymar" at hers.
With Neymar as captain, Brazil turned its tournament around. First came a 4-0 victory over Denmark to close out the group, followed by a 2-0 quarterfinal win over Colombia.
Neymar really showed Brazil was back with a 6-0 victory over Honduras in the semifinals. He scored two goals - including one only 15 seconds into the match, the fastest in Olympic history.
"We needed to respond to the Brazilian people - say something to the people and to the football community by doing something different," said Micale.
"We did that. We won. We're skilled and competent. We responded as necessary and we did this in the short time that was available to us."
The golden win was not only Neymar's redemption, it was the nation's.
The victory came two years after an embarrassing 7-1 home loss to Germany in the World Cup semifinals. Brazil was also eliminated in the group stage of this year's Copa America.
Neymar was on the World Cup team but didn't play against Germany because of a back injury.
With his penalty kick in the Olympic final, he helped ease some of that lingering bitterness. He also countered the doubters who dogged him early at the Games.
"We went through difficult moments at the beginning of the competition - we were criticized," he said. "And we answered on the field, with our soccer."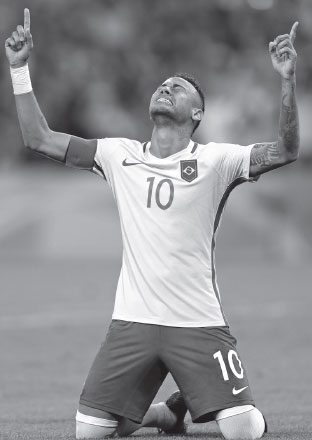 Brazil's Neymar celebrates at Rio's Maracana Stadium after scoring the decisive penalty kick in Saturday's 2-1 win over Germany, lifting the host nation to its first ever gold medal in Olympic soccer. Andre Penner / Ap