His legs were tired, but Britain's Mo Farah produced blistering pace in the final straight to become the first man in 40 years to retain the two Olympic distance titles.
The 33-year-old, who fought back from a stumble to claim the 10,000m last week, said his victory in the 5,000m on Saturday night had been the most satisfying of the four golds.
Farah won his second straight 5,000m in 13 min 3.30 sec to match the feat of Finland's Lasse Viren who retained the same Olympic titles in 1976.
"Oh my God, I can't believe it," said Farah. "It's every athlete's dream, but I can't believe it.
"My legs were tired after the 10,000m and people had to bring me food in my room. This is the most satisfying win of the four, it is incredible."
Farah, who trains in Oregon under ex-marathon great Alberto Salazar, said watching Ethiopian distance legend Kenenisa Bekele wins medals had been an inspiration.
"When Bekele won all those medals I said, 'I just want one'. If you have dreams they can come true and I always wanted to achieve these for my kids because for so much of the year you don't see them and thus you want to show them something."
Kenyan-born Paul Chelimo, running for the US, took silver in a personal best of 13:03.90. He was initially disqualified but quickly reinstated. Ethiopian Hagos Gebrehiwet claimed bronze in 13:04.35.
Dejen Gebremeksel, the Ethiopian silver medalist behind Farah in London four years ago, and Gebrhiwet set out on a fast pace, with Farah at the end of the strung-out field in perfect conditions.
Chelimo, one of three foreign-born US runners in the field along with the 41-year-old former Kenyan Bernard Lagat and Somalia-born Hassan Mead, was happy tagging along in third as Farah moved up to sixth.
The Ethiopians alternated the lead, with Kenyan-born Bahrain runner Albert Rop also in the mix.
With five laps to run, Farah was well positioned in second and then took over the lead, immediately dropping the pace so that the pack bunched back up.
Farah led the 15-strong field through the 4,000m mark in 10:39.4 as the pace again picked up for the final 1,000m under pressure from Ugandan Joshua Cheptegei.
Farah went through the bell head-to-head with Gebrewihet, who moved ahead down the back straight.
But Farah held firm and surged again from 200m. Chelimo looked as if he might have had the beating of the Somalia-born Briton as they entered the home stretch, but Farah found an extra step in his stride, running the final lap in 52.83 for a famous win.
"When I hit the front I wasn't going to let them past me," Farah said. "I wasn't going to let the inside lane go. I didn't want to get boxed in.
"There was pushing, but that is part and parcel of the race. I hate to lose. I have been like that ever since I was a kid, I'm really driven. That's just me."
In a stellar career, Farah has achieved the world double-double at the 2015 and 2013 championships in Beijing and Moscow.
Salazar has faced doping suspicions, but no charges have ever been made and Farah has stayed loyal to the Cuban-born coach.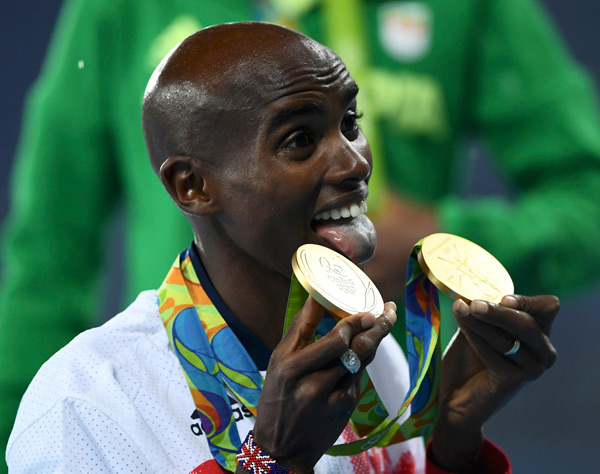 Britain's Mohamed Farah shows off his gold medals from the 5,000 and 10,000m. Dylan Martinez / Reuters