It was predicted, but that didn't make it any less impressive - or any less contentious.
South Africa's Caster Semenya won the Olympic 800m final on Saturday with no one close to challenging her.
But the result will only stoke the complex debate over whether women with much higher levels of testosterone than normal should be allowed to compete unchecked.
Semenya won her first Olympic gold in a personal-best of 1 min 55.28 sec, a national record and one of the all-time top 20 results in the 800m.
"It was just a fantastic race," she said.
Burundi's Francine Niyonsaba took silver more than a second behind the dominant Semenya, with Kenya's Margaret Wambui collecting the bronze for an African podium sweep.
Semenya sat back behind leader Niyonsaba until the final 150 meters, then unleashed a powerful burst from out of the bend to pull away down the straight, leaving her competitors fighting for silver.
Such is Semenya's dominance this year - she ran her previous personal best last month - it was exactly how everyone thought it would go.
"The coach told me to be patient, wait for the right moment," Semenya said."Obviously, we know we're quicker the last 200. We just have to utilize it."
Since her arrival in athletics in 2009, when she won the world title as an 18-year-old, Semenya has been the unwilling face of one of the most complicated and sensitive debates for the sport: Do women who have much higher levels of natural testosterone than normal have an advantage over other female athletes, and if so, is it unfair?
Semenya's breakthrough world title seven years ago pushed the International Association of Athletics Federations to introduce rules limiting testosterone in female athletes.
Semenya is believed to be one of several females to compete in Rio with very high testosterone, caused by a condition called hyperandrogenism.
After a legal challenge, the IAAF was forced to drop the testosterone-limiting rules last year.
Many believe that left Semenya, and others, free to run again with their very high naturally-occurring testosterone levels unchecked.
Many also believe it left Semenya unbeatable.
The South African, who appeared barely out of breath at the finish, popped the national flag onto her shoulders and took a leisurely jog around the stadium to celebrate her first major title since her world championships gold in 2009 was overshadowed by a sex-test scandal.
She also demonstrated her signature celebratory move - raising her arms and flexing her bicep muscles before brushing her hands across her shoulders - the way she brushed off her rivals.
In Rio, she ran the fastest time over two laps by any woman anywhere for eight years.
"The race was a little bit quick, the first 400 we were pushing ourselves, it was great," she said.
"It was just about being patient and doing what I do best."
After silvers at the 2011 world championships and the 2012 Games, Semenya was such a heavy favorite to win the 800m title in Rio that some of the other women competing in the earlier qualifying races said they couldn't keep up with her.
Some even suggested a different category for hyperandrogenic women, while others refused to talk about the testosterone issue.
Canada's Melissa Bishop, who finished fourth and broke a national record, said after the final she would not answer any questions related to testosterone.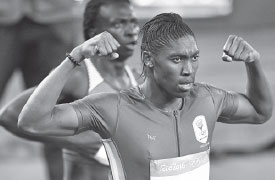 South Africa's Caster Semenya celebrates winning the gold medal in the women's 800m on Saturday. Martin Meissner / Ap