As was widely predicted, China is dominating the 2016 Rio Olympics table tennis medal tally with all but one being taken home by players from the Middle Kingdom. And with Ma Long defeating compatriot Zhang Jike in today's men's singles final, another gold and silver have been added to the scoreboard. So why is China paddling way out in front of the rest of the world when it comes to table tennis?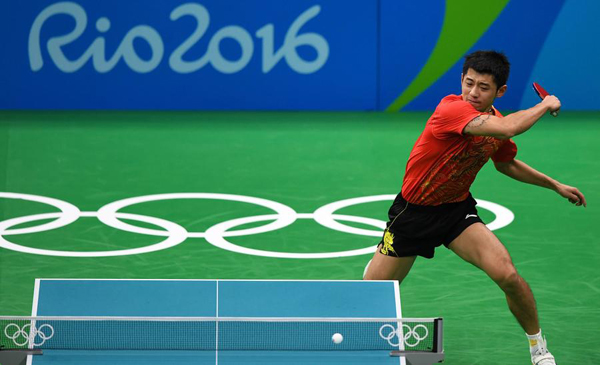 China's Zhang Jike returns the ball against Vladimir Samsonov of Belarus during the men's singles semifinal at the 2016 Rio Olympic Games in Rio de Janeiro, Brazil, on Aug. 11, 2016. Zhang Jike won 4-1.[Photo/Xinhua] 
China's love affair with table tennis first began after it was introduced by British army officers stationed in the country in 1901. Its popularity over time grew due to the sport's inclusivity, allowing it to be played by young and old, rich and poor. Table tennis, also known as Ping Pong or even whiff-whaff, has thrived because it can be played almost anywhere, from the school yard to railway platforms, table tennis tables can be seen all across the length and breadth of China.
For a time, table tennis was really the only major sport in China, with Chairman Mao even proclaiming it as the country's national sport.
The country finally made its mark on the global stage in 1959, when Ring Guotuan won the International Table Tennis Federation (ITTF) World Championship, the first Chinese national to become a world champion in any sport. Zhuang Zedong followed it up by taking the next three titles in 1961, 1963 and 1965. China had firmly placed its paddle on the table as a new Ping Pong superpower.
To ensure further success was to follow, the government began to invest in table tennis and sent coaches out across the country to find the next generation of talent to make sure their rise to prominence continued. The coaches focused on finding children with the quickest cat-like reflexes, and the hand-eye coordination of fighter pilots.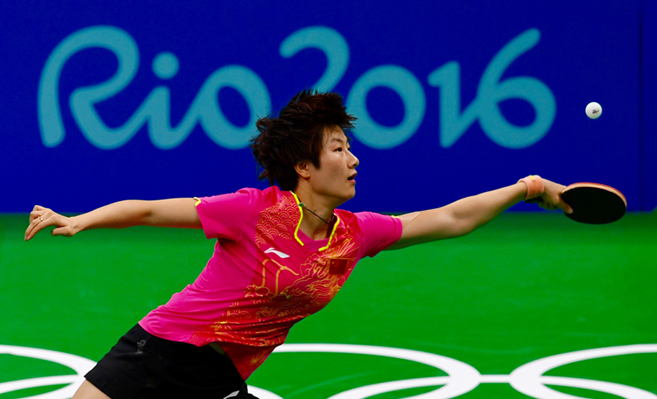 Ding Ningfights hard at the women's singles table tennis final against teammate and defending champion Li Xiaoxia at the 2016 Rio Olympic Games in Rio De Janeiro, Brazil, Aug 10, 2016. [Photo by Wei Xiaohao/chinadaily.com.cn] 
China quickly created a system whereby it could develop, nurture and train the best in the sport from a young age. The country's huge depth of talent, intensive training and selection methods, its extensive team of support staff and analysts are able to provide Chinese players with the best tools possible to pinpoint their opponents' weaknesses.
Complexes such as the Chinese National Table Tennis Training Center (CNTTTC) in Hebei province, home to the national team since 1992, were created to develop, improve and hone every aspect of players' abilities. There is accommodation on site, as well as a restaurant, state-of-the-art gym and even masseurs and traditional Chinese medical doctors.
The CNTTTC has trained many of table tennis's Chinese superstars, such as Deng Yaping, Qiao Hong, Kong Linghui, Ma Lin, Wang Ligin, and Zhang Yining.
For the past 11 consecutive years, the ITTF world title holder has been Chinese. At the 2008 Beijing Olympics and the 2012 London Olympics, China took home every single medal on offer in the sport.
As a result, the International Olympics Committee (IOC) decided to change the selection rules so that each country could only enter two players to compete in each competition. This was supposed to limit China's dominance of world table tennis, however so far, it doesn't seem to have worked.