Public quick to support athletes after initial performances fall short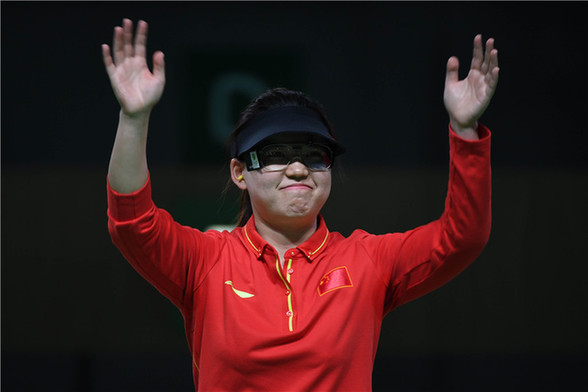 The 25-year-old Zhang Mengxue won China's first gold at the Rio Olympics by claiming the women's 10m air pistol title here on Aug. 7, 2016.[Photo/Xinhua]
China won its first gold medal at the Rio Summer Olympics on Sunday when Zhang Mengxue was successful in the women's 10m air pistol event.
Zhang, 25, from Jinan, Shandong province, reached the final by finishing in seventh place in qualification.
Her performance helped lift the gloom after Chinese competitors failed to win any gold medals on Saturday, the first full day of competition.
Messages of encouragement from the public in China were received by these competitors.
The messages helped to restore the spirits of some team members who were reduced to tears by performances that fell below expectations.
Bai Yuze, 27, a soccer fan in Beijing, said, "I think the obsession about gold medals is a thing of the past. ... We miss out on them now, but we win them next time."
Chinese tend to view first-day gold medals as an auspicious sign.
But to the surprise of many in Rio on Saturday, Chinese competitors missed out on all four opportunities to strike gold — the women's 10m air rifle, men's 10m air pistol, women's epee, and most important, the men's 400m freestyle swimming in which national star Sun Yang was defending the title he won at the London Olympics.
China had to settle for two silvers and three bronzes instead. It was the first time since the 2000 Sydney Olympics that the nation had failed to win a gold medal on the first full day of competition.
After the men's 400m freestyle swimming final, a tearful Sun apologized to his parents and coach. "I should take all the responsibility," said the swimmer, who was edged out of first place by Mack Horton of Australia.
But few of Sun's fans shed tears along with him.
Cao Ruoqi, a 22-year-old Chinese studying at Moscow's National Research University Higher School of Economics, said: "With or without a few more golds from the Olympics, our country is a world powerhouse in sports after all. That's not going to change."
Veteran Chinese shooters Du Li and Yi Siling finished second and third in the women's 10m air rifle event, with Virginia Thrasher of the United States taking the gold.
Du's husband, Pang Wei, claimed a bronze in the men's 10m air pistol, while Sun Yiwen beat Lauren Rembi of France but had to settle for another bronze for China in the women's epee.
Sports managers were happy to see the public adjusting its expectations.
Tan Jianxiang, a sports sociology professor at South China Normal University, said, "We shouldn't place too much pressure on our athletes."
Contact the writers at leilei@chinadaily.com.cn