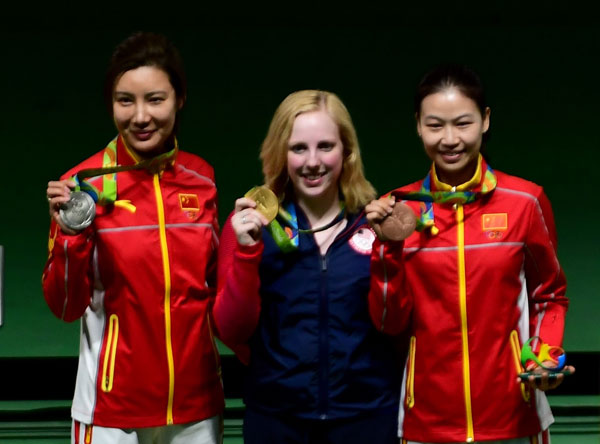 China's Du Li (left), Virginia Thrasher (center) of USA and China's Yi Siling on the medals podium at Olympic Shooting Centre in Rio de Janeiro, Brazil, August 6, 2016. [Photo/Wei Xiaohao]
Tears, hugs and fist-pumps – Chinese shooter Yi Siling experienced all three after the women's 10m air rifle final at the 2016 Rio Olympics, like she did four years ago in London.
But the result, this time around, came with far different emotions for Yi, as she finished third by scoring 185.4 points with 18 shots in the final – knocked out before the final two-bullet shootout by eventual gold medal winner Virginia Thrasher of the United States and veteran teammate Du Li, who claimed a silver medal.
Yi, who shot her way to the first gold medal on offer in London to get her country to a flying start in 2012, couldn't hold her emotions during the post-final interview.
"I feel like this bronze medal is heavier than the gold I won in London because the past four years had been so tough and I managed to push through it to stand on the podium again. In this regard, I felt so proud of myself," the 27-year-old Hunan native said while weeping tears.
"Being on top of there and to start over again from zero, not many people would've known how hard it was. I am disappointed that I failed to defend my gold medal but I've given what I have so I have no regret."
China's Vice-Premier Liu Yandong also offered her congratulations to both Chinese shooters after watching the final at the Olympic Shooting Center in northwest Rio.
Liu also met International Olympic Committee President Thomas Bach after the final, expressing the determination that China would make a greater contribution to the Olympic Movement by preparing for the 2022 Winter Olympics and inspiring more people to participate in sport.
After reaching her career peak in London, Yi hung up her rifle for a while and started her undergraduate studies in business management at Tsinghua University in Beijing.
She came back to practice for the National Games in 2013 and has since managed to maintain a tough balance between academic study and rigorous shooting training over the past three years.
"I tried my best to manage my time and to do both things well. But it's too hard. Now I can tell how hard it was to try to do it to the best again not to mention I have to spend a lot of time on study," Yi said.
Yi's senior counterpart Du, who embarked on her fourth Olympic campaign in Rio, echoed the disappointed Yi.
"The four-year circle restarting from nothing is something that every Olympian has to experience. But not so many could finish on the podium again and again. Winning a silver medal I already feel really satisfied," said Du, the champion of this event at the 2004 Athens Olympics.
Du also claimed a gold medal in the women's 50m rifle three-position at the 2008 Beijing Olympics but decided to temporarily quit the sport after unexpectedly finishing 13th in the same discipline in London.
Overcoming physical challenges to return to competition fitness, Du said her career as an athlete may have ended after the Rio Olympics but shooting would remain part of her life.
"It is highly possible my last Olympics but I won't leave the sport as I would love to continue my career around it," said Du, who has a six-year-old son.
"It's really hard," said the silver medalist, "There were some expectations, but It's just too hard."
It was the third Olympic medal for Du, and she said she was still nervous during the competition.
"I couldn't stop myself from looking at the standings time and again," she added.
Defending champion Yi brought home the bronze medal. She collected as many as 10 ISSF World Cup medals and one silver at the 2014 World Championships, but failed to become the first shooter in the Olympic history to win multiple gold medals in women's 10m air rifle.
"So much pressure for me," said Yi. "I have been thinking about today's match for the last couple of days, and I tried really hard to shoot my best."