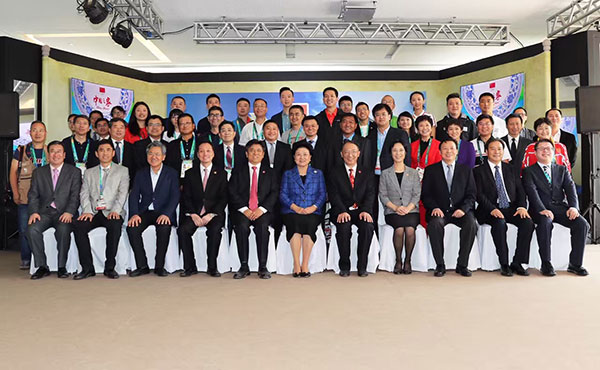 Vice-Premier Liu Yandong, fist row and center, poses for a group photo with representatives of Chinese media organizations to cover the Olympic Games at the "China Home" in downtown Rio de Janeiro, Brazil on Aug 5, 2016. [Photo/Xinhua]
RIO DE JANEIRO - Vice-Premier Liu Yandong on Friday greeted the representatives of the country's media organizations which converged on Rio to cover the Olympic Games.
Liu, who will attend Friday night's opening ceremony of the Rio Olympics at the Maracana Stadium, was briefed at the "China Home" in downtown Rio on the coverage of the 2016 Olympics by some of China's mainstream media organizations including the People's Daily, Xinhua News Agency and the China Central Television.
"I will attend the Olympic opening ceremony as the special envoy of President Xi Jinping. It underscores China's full support to the Olympic Movement as well as the Rio Games, and the comprehensive strategic partnership of cooperation between China and Brazil," Liu told a group of Chinese media staff.
More than 800 accredited people from some 80 Chinese media organizations have come to Rio to report on South America's first Olympics, which Liu said has reflected Chinese people's commitment to and enthusiasm for the Olympic Movement.
"There are two battle grounds at the Olympic Games. One is for the athletes from around the world, and the other is for the global media organizations," said Liu.
"I hope that you will not only highly publicize the sporting feats and inspiring stories of Chinese athletes, but also promote the Olympic spirits," she added.