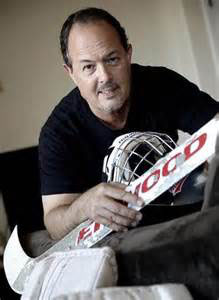 Tim Richmeier was spending about $5,000 annually and maxing out his credit card to support his son's hockey habbit.
And parents hoping for a scholarship to offset their sacrifices may be disappointed. NCAA schools awarded more than $2.9 billion in athletics scholarships last year. But a full ride is rare, and a partial scholarship may come to a fraction of what it cost to get a child to that level.
"Those numbers don't discourage many people; it's in the American character to go after it," said Tom Farrey, who leads the Sports & Society Program at the Aspen Institute.
"Parents are coming from a place of love, they want what is best for their kids. Unfortunately, they are misinformed."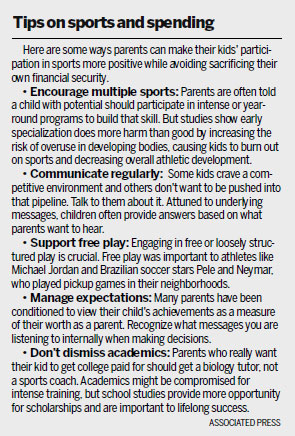 Even for those who can afford it, there is stress.
Lisa Williams of Wilmette, Illinois, sees the $2,000 or so she spends each season on her daughter's soccer team not as an investment in a sports future but in her child's skill set off the field.
In her neighborhood there is a "certain expectation of excellence" and the assumption if your child plays sports that they'll do so on a travel or elite team.
"Some of it is parent peer pressure. Do you want to be the parent who doesn't send their kid to the extra training and the summer camps and the extra clinics?" Williams said. "You don't want people to think, 'Oh, she doesn't love her kid.'"
That pressure is part of a shift in parenting and culture over recent decades, experts say.
"We tend to get very emotionally invested in the life of our kids in sports, it makes us more vulnerable to making questionable decisions," said Mark Hyman, who teaches in the business of sports program at George Washington University.
He notes that many people have an economic interest in parents spending more on sports - from elite coaches to the facilities that host the tournaments. So parents may be urged to make decisions that are not based on neutral input.
"The challenge is to recognize sports for kids are great but they are great because they give you these positive lessons they can carry on through life," Hyman said.
Debbie Amorelli of Upton, Massachusetts, says she wrestles with how much she and her husband spend on hockey for her 17-year old son, who hopes to play at college.
The fees, gear and travel add up to about $10,000 a year. They pay for it using an inheritance from her father, but without it Amorelli says she doesn't know what they would have done.
"The experiences he is having are priceless," she said.
"But we keep saying to him: This is essentially coming out of your college fund, this is money we could be putting away."