World's fastest man relies on family for love and laughter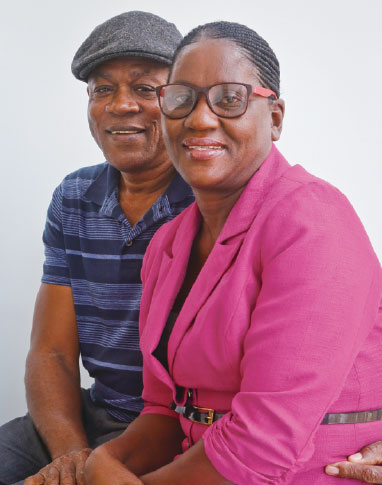 Wellesley and Jennifer Bolt, parents of Jamaican Olympic gold medalist and world record sprinter Usain Bolt, pose during a July 19 interview in New York. Bebeto Matthews / Ap
How does Usain Bolt's mom help the world's fastest man keep his cool?
"We say things that will make him laugh," said Jennifer Bolt as her superstar son readies for what just might be his last Olympics.
At nearly 30, Bolt has six Olympic gold medals from the Beijing and London Games.
Though he withdrew from Jamaica's national meet on July 1 with a slight tear in his left hamstring, the world record holder in the 100 - and 200-meter sprints proved his fitness in the 200 at the London Anniversary Games on July 22, after which he declared himself good to go for Rio.
A few days before the London event, his mom visited New York and said she wasn't worried, having long ago learned that calming her own nerves was the best way to soothe Usain.
"I know he's going to get well and everything will be OK," said soft-spoken Jennifer Bolt, who has been cheering him since her son's speed first surfaced in his early teens.
"I tell him to just stay focused, remember God, remember to pray and read your Bible, remember how much we love him," she said.
Usain has come back from injuries before, including left hamstring problems.
When it happened at what was supposed to be his first Olympics, Athens 2004, he didn't make it past the first round. He was just 17.
"It was a bit scary because we didn't really understand and know what it was," Jennifer said. "He wanted so much to be at the Olympics and he just couldn't make it."
Jennifer and Usain's dad, Wellesley, live in the same village along Jamaica's northern coast where they ran a general store during his youth.
They've been helping him, Jennifer said, "not get nervous" since 2002, when at age 15 he debuted at the World Junior Championships in Kingston.