Home / Sports / Basketball
Wade leads Bulls past Celtics 105-99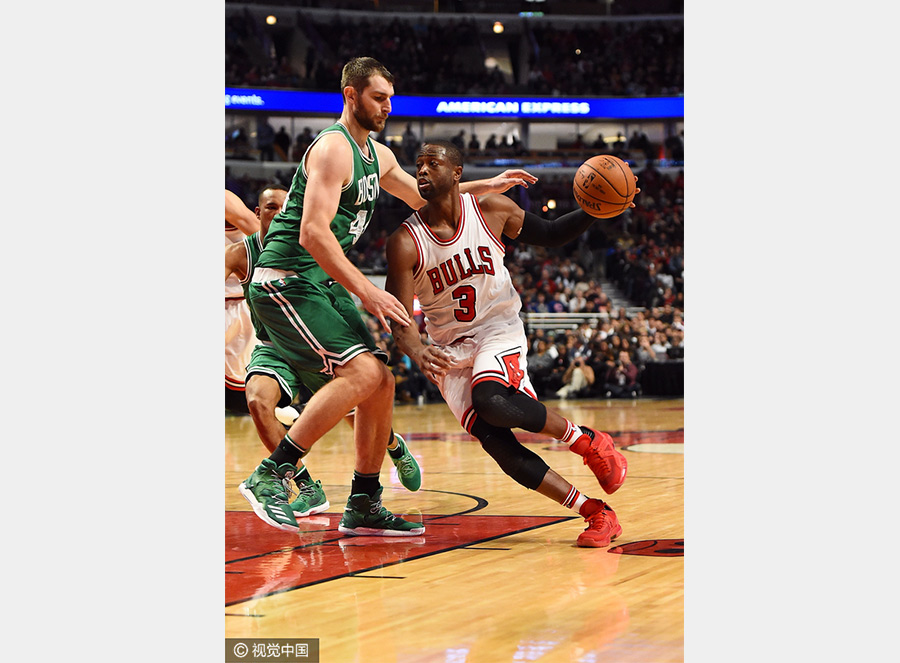 Dwyane Wade (3) of the Chicago Bulls drives to the basket against Tyler Zeller (44) of the Boston Celtics during the second half of a game at the United Center on October 27, 2016 in Chicago, Illinois. [Photo/VCG]
WASHINGTON - Dwyane Wade scored 22 points in his Chicago debut as the Bulls beat the Boston Celtics 105-99 on Thursday night, winning their NBA season opener.
Wade, who nailed 4 of 6 3-pointers, buried a three-pointer with 26.3 seconds left to make it five points over Celtics on 104-99. He also had 6 rebounds and 5 assists. Jimmy Butler had 24 and Taj Gibson finished with 18 points and 10 rebounds. Rajon Rondo had 4 points and 9 assists.
Isaiah Thomas led Boston with 25 points. Avery Bradley had 16 points and Jae Crowder added 14. Horford finished with 11 points and 7 rebounds in his Celtics debut.
Both teams had big moves in the offseason as the Bulls traded Derrick Rose to New York and signed Wade, the three-time NBA champion and 12-time All-Star, from Miami Heat after 13 seasons. The Celtics acquired center Al Horford from the Atlanta Hawks.