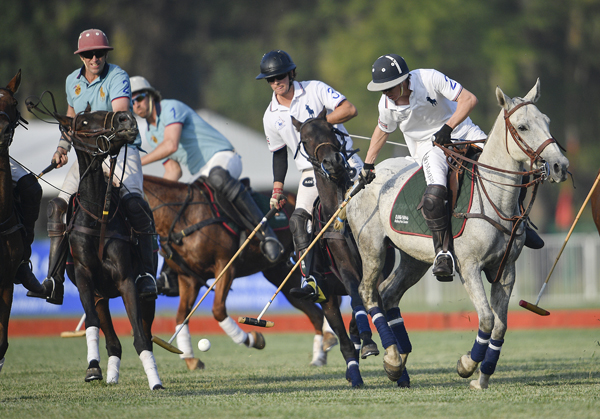 Team New Zealand and team Britain during the final game.[Photo provided to chinadaily.com.cn] 
New Zealand won the championship of the 2016 Beijing International Polo Open tournament on Saturday in a polo club located in Beijing suburb district of Yanqing, where some of the 2022 Winter Olympics skiing events will be held.
It is the eighth edition of the yearly tournament where Kyrgyzstan, New Zealand, Britain and host China vied for the title. New Zealand and Britain beat China and Kyrgyzstan respectively in the first round. China won the third-place game.
New Zealand's David Miller was awarded as the MVP as he led the country's 7-4 win.
China is home to polo as the sport originated from the Han Dynasty (202BC-220DC) and became popular among royalty from the Tang Dynasty (from 618DC). Introduced from India to the West, the sport is played in more than 80 countries worldwide. The Beijing tournament is the first government-supported polo event domestically.
The district is working on a horse-themed tour and leisure industry, making use of the opportunity to make horses one of its calling cards.
China is applying for snow polo to become a exhibition event at the 2022 Winter Olympics to promote the sport and host region.