Chinese pursue new challenges through mud runs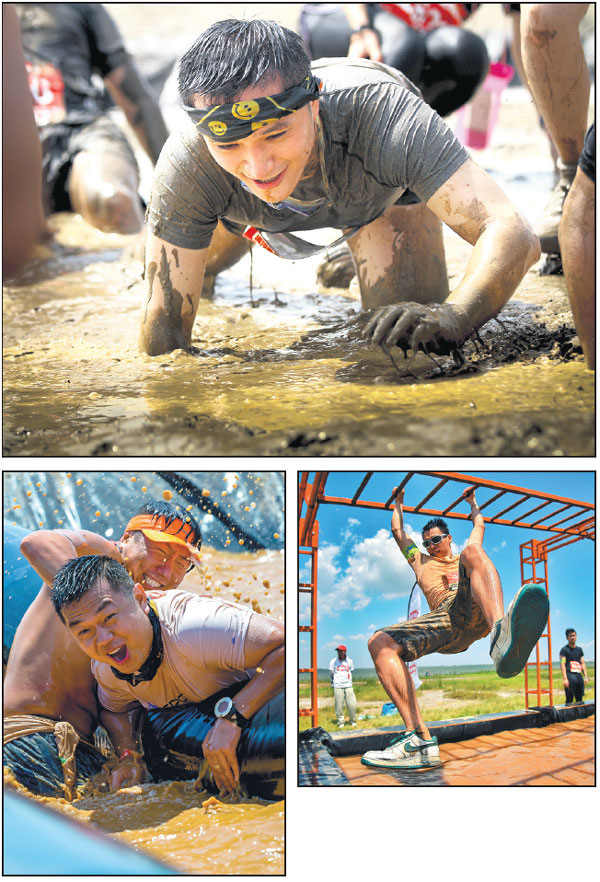 More than 4,000 running enthusiasts take part in the latest mud running event held in Shanghai on Aug 27 and Aug 28. Shanghai was the third stop on this year's nationwide mud run tour held by Beetle Sports. The sport originated in Britain and was brought to China in 2015 by Beetle Sports, a start-up that was established in the same year. Provided to China Daily
From running through colorful powder to racing upstairs to the top of a skyscraper, runners in China can find a wide variety of events to satisfy their desire to compete in lung-bursting endurance events.
And mud running is currently the trendiest of all such endurance tests.
More than 4,000 runners from across the country took part in the latest mud running event held in Shanghai on Aug 27-28. They were faced with 30 different types of obstacle along the 8-kilometer-long muddy track, such as walls and ice water.
Teamwork was required to overcome these obstacles; so many runners formed fast friendships during the challenging event, even though they didn't know each other beforehand.
Shanghai was the third stop on this year's nationwide mud run tour held by Beetle Sports. The previous events in Beijing and Nanjing, Jiangsu province attracted 1,600 and 2,000 runners respectively. The fun yet arduous run will also be held in Chongqing and Sanya, Hainan province.
"We will set up different forms of obstacle in different cities to ensure runners get an exciting, new experience (every time)," said Huang Sichen, founder of Beetle Sports.
He continued: "People can also enjoy 'running wild'. Many of us were warned against playing with mud when we were kids, but now we can jump into the mud and have fun without fear."
Mud running originates from the daily training rituals of British special forces soldiers and has been developed into a sports event "combining physical challenges and fun", according to Liu Hairuo, PR director of Beetle Sports.
"Mud runs are not races. They don't rank runners but rather encourage them to help each other and challenge themselves during the run," Liu said.
"They are unique running events that satisfy runners' drive to be challenged and have fun."
Since 2010, more than 13 million people have participated in over 1,000 mud runs in six countries and regions around the globe. The sport was brought to China in 2015 by Beetle Sports, a start-up that was established in the same year.
Running came to prominence as a popular way of keeping fit in China around 2012 and has become a marketing goldmine for event organizers, sportswear manufacturers and electronic gadget makers. After all, who wouldn't want to take part in some of the most grueling and trendy running events decked out in the latest gear?
City governments have also embraced such running events, seeing them as a valuable way of advertising cities' tourism resources.
To that end, 113 marathons and similar endurance races had been held on the Chinese mainland as of May 13, almost three times last year's total number, according to the Chinese Athletic Association.
To make mud runs stand out from among the many different running events in China, Beetle Sports promotes the sport specifically to its target audience - extreme and outdoor sports enthusiasts, fitness center clients, white-collar workers and students - through advertisements on both sports apps and in fitness centers.
The company also plans to produce mud run TV shows, according to Liu.
"Mud running in China is developing apace in 2016, with an ever-growing number of both events and participants. We aim to develop mud running from a sports event into an intellectual property that can generate business opportunities for all relevant industries," Liu said.
xujingxi@chinadaily.com.cn