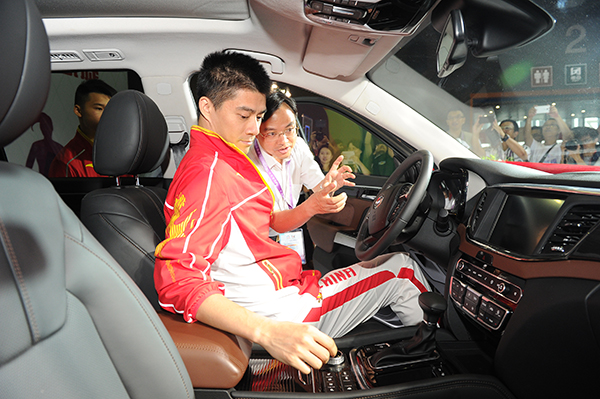 Rio Olympic Games gold medalist Fu Haifeng,men's double badminton veteran, examines a vehicle sent by GAC Motor Co Ltd as a gift on Friday. [Photo/chinadaily.com.cn]
GAC Motor Ltd, the Chinese carmaker focusing on research and development of homegrown vehicles, gave brand-new vehicles as gifts to four Guangdong-based gold medalists of the Rio Olympic Games on Friday.
The gold medalists include Fu Haifeng, men's badminton doubles veteran, Chen Aisen, double gold medalist diver, Liu Shiwen, table tennis player, and Liu Hong, the women's 20 km race walker.
"We are pleased to send China's best homegrown vehicles to its gold medalists. Their striving spirit is well in accordance with our brand – to do the best and create legends," said Yu Jun, general manager of GAC Motro Co.
The vehicles are GAC Motor's latest variety of seven-seat SUV GS8, which will be officially launched for sale in October, according to the company.
GAC Motor sold more than 220,000 vehicles in the past eight months, already realizing its whole year's sales target.