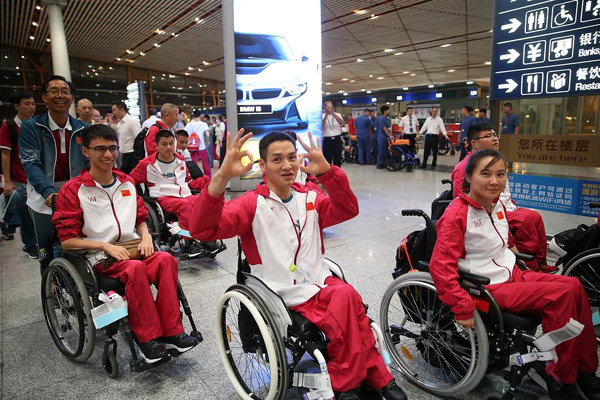 China's Paralympic team prepare to leave for Rio in Beijing International Airport, Aug 30, 2016. [Photo/Xinhua]
RIO DE JANEIRO - China's Paralympic team, the largest China has ever sent overseas to a Paralympics, arrived in Rio de Janeiro on Wednesday.
A total of 308 disabled athletes from China will compete in Brazil between September 7 and 18. Among them are 161 men and 147 women, who will participate in 328 events covering 17 sports, setting another record.
Alongside them will be 177 coaches and support staff, as well as 14 assistants to help those who have severe physical disabilities. The 499-strong delegation is the largest China has ever sent overseas to a Paralympics.
Chinese delegation is divided into three groups to fly to Rio. The third and last group, around 360 people, arrived in Rio on Wednesday. Around one third of the athletes in the third group use wheelchair, adding difficulty in the 25-hour flight.
Seven Paralympic swimming gold medals winner Xu Qing of China will participate in his fourth Paralympics. "After long-time flight, I feel a bit tired. But I'm still excited for my fourth Paralympics. I will spare no effort for good results," he said.
At the London Paralympics, China won 95 gold medals and 231 medals in total. The Asian country topped the medal table at the last three Paralympic Games.