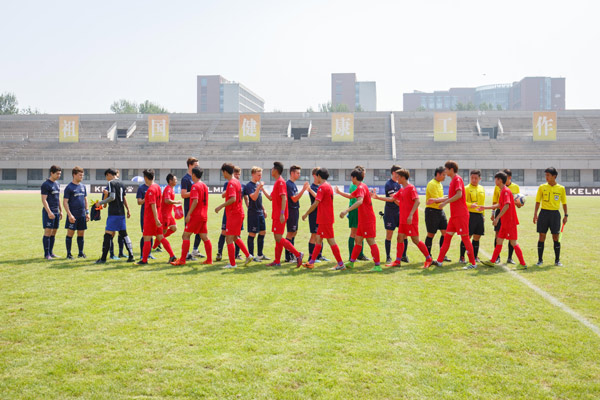 Members of the University of Oxford Blues football team shake hands with their opponents from Renmin University on August 3. [Photo provided to chinadaily.com.cn]
More than 130 college students from around the world kicked off with the first World Elite University Football Tournament at Tsinghua University.
Football teams from eight universities in Europe, North America, Asia, and Australia, namely Cambridge, Oxford, University of Southern California,the University of Melbourne,Hong Kong University of Science and Technology, Peking University, Renmin University of China, and Tstinghua University, participated in the event.
"It will be a great opportunity to see how other international universities handle themselves on the sporting field," said Tom Mullumby, coach of the University of Melbourne team, adding that the students are excited for the opportunity to engage with the global university sporting community.
Zhao Ziye, a sophomore from Renmin University of China described this tournament as an intense but exciting experience.
"The fierce competition with elite football universities ignites me and inspires me to learn more," said Zhao.
The World Elite University Football Development Seminar was held during the tournament, in which the college football teams shared physical education experiences in different countries, as well as cultural communicating activities.
Wang Keju contributed to the story.