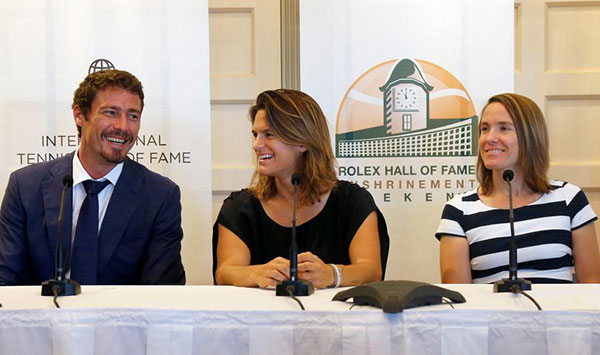 Marat Safin, Amelie Mauresmo and Justine Henin smile as they sit for an interview before being inducted into the International Tennis Hall of Fame on Saturday. Mary Schwalm / Reuters
Marat Safin enjoyed life as a tennis player, calling it like living in a rock 'n' roll band.
That fun-filled journey brought him to the pinnacle of his sport - induction into the International Tennis Hall of Fame.
Safin and Justine Henin were inducted on Saturday during a center-court ceremony on Newport's grass courts.
They were introduced by Hall of Famers Jimmy Connors and Monica Seles.
Connors, a 1998 inductee, called Safin "an emotional guy who played with passion. That's what drew me to him."
Seles, inducted in 2009, touched on Henin's classic one-handed backhand, saying "without question, one of the signature shots in tennis history. To be honest, I hated it."
Henin is the first player inducted from Belgium. She captured four French Open titles from 2003-07 and said she was inspired watching Seles play.
"At six years old, I was in my bedroom jumping up and down like I won the French Open," she said, then told the audience she informed her mom that one day she'd win a French title.
The 34-year-old also won the US Open twice and the Australian Open to go along with a gold medal at the 2004 Athens Olympics.
"My most beautiful experience was probably the Olympic Games because I could see many people fighting for their countries," Henin said.
Safin entertained the crowd with his speech.
"I'd like to thank all the people that stopped giving me fines for throwing my rackets, breaking rackets," he said.
During a morning media conference, Safin called one of his top victories - beating Pete Sampras for the 2000 US Open title - "a complete surprise."
"I wasn't joking," he said of the Open title. "I never played such tennis. I didn't know what was happening. It's amazing to play like that out of the blue and say, 'Wow, it's me.'"
The 36-year-old Safin is the first Russian to be inducted into the Hall. He won his only other major at the 2005 Australian Open, beating Roger Federer in the semifinals before ousting Lleyton Hewitt.
He said it was special visiting the museum for the first time.
"The first day I was in shock," he said. "I was like a kid coming to Disneyland. It's a huge honor to be inducted and be a part of history."
Amelie Mauresmo, inducted last year, was also honored on Saturday. She missed the ceremony in 2015 ahead of the birth of her first child.
"Yeah, I'm a bit late, but it was worth it," said Mauresmo, who won Grand Slam titles at Wimbledon and the Australian Open.
The 37-year-old Frenchwoman broke into tears at the end of her speech when she talked about the terror attacks in Paris and around the world.
Yvon Petra and Peggy Scriven were inducted posthumously in the master player category.