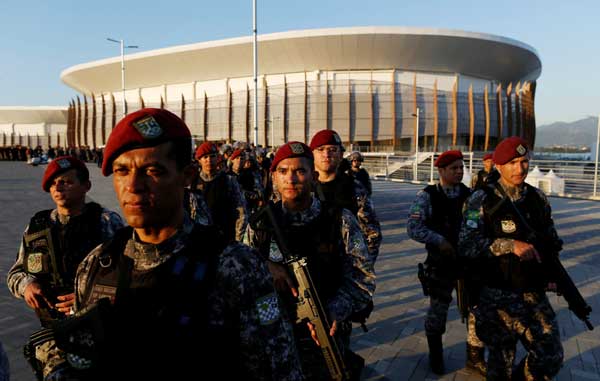 National Force soldiers arrive at the Rio 2016 Olympic Park in Rio de Janeiro, Brazil, July 5, 2016. [Photo/Agencies]
RIO DE JANEIRO -- The Forca Nacional protested Wednesday in west Rio de Janeiro to demand better conditions in their accommodation in Rio and complained about the delay in the daily payments.
The officers of the Forca Nacional, a federal co-operation of various Brazilian public security forces, arrived in Rio on July 5 from all parts of Brazil. During the Games, they will monitor the interiors and surroundings of the Olympic venues that will host the Olympic and Paralympic competitions in August and September.
The protesters of the Forca Nacional demanded better conditions of accommodation where they stay in Rio. They also threaten to leave the security task of the Games.