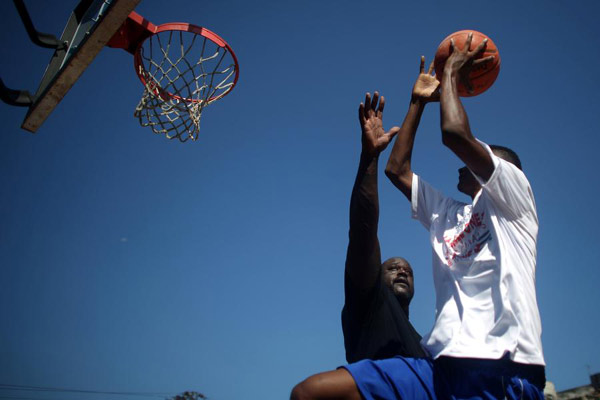 Former NBA basketball star Shaquille O'Neal (L) conducts a master class for young people in Havana, Cuba, June 26, 2016. [Photo/Agencies]
HAVANA - Legendary US basketball star Shaquille O' Neal on Sunday hosted a clinic in Havana for young Cuban players as part of a US government-sponsored trip to promote bilateral ties.
O' Neal, who earlier this week was named sports envoy to Cuba by US President Barack Obama, offered young players tips and new techniques to develop in the future.
"We share a lot in common and we wanted to come here to extend our friendly hand and start moving things on between both nations," the seven-foot one-inch basketball hall of famer told reporters as he arrived at the clinic in Havana.
The 15-time National Basketball Association (NBA) all-star, who played for the Los Angeles Lakers and Miami Heat, among other teams, before retiring in 2011, spent around two hours with Cuban youth as part of the US State Department's "people-to-people program."
"Shaq", as he is affectionately known to fans, said he was in favor of Obama's decision to restore ties with Cuba after half a century of animosity.
"It was great for the president to reopen the door and reestablish a better relationship with this beautiful island," he said.
O' Neal stressed that through sports any two countries can come together for good causes and help each other to strengthen political relations.
For the US it was an opportunity to reach out to Cuba's youth, while for the young participants, it was a unique opportunity to learn from one of the best players in the history of the game.
"His presence here brings us a lot of joy, because we can learn more about basketball techniques from all the experience he has," Jordan Davis, a young Cuban player, told Xinhua.
Throughout the clinic, O' Neal guided the participants through different dribbling methods and shooting strategies, and even served as referee in a couple of short games.
"He is a figure of great experience and for us it is very important to learn. It is an honor to have him here," Dalila Perera, a Cuban girl with dreams of playing pro basketball, said.
O'Neal will stay in Cuba through June 28 as part of Washington's sports diplomacy, meeting young Cubans, talking sports and visiting cultural sites.
Last year, an NBA delegation traveled to Cuba for the first time to begin cooperation and host basketball clinics on the island.