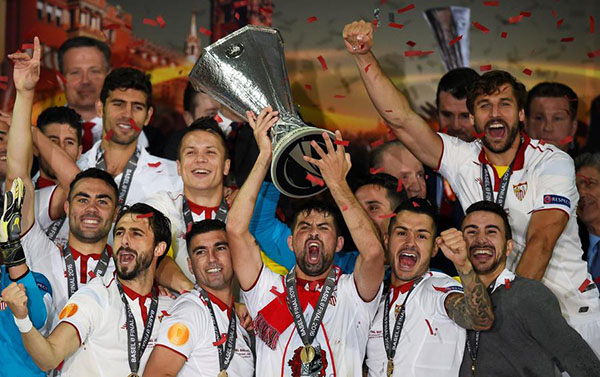 Sevilla's Coke celebrates with the trophy and team mates after winning the UEFA Europa League final at St. Jakob-Park in Basel, Switzerland, May 18, 2016. [Photo/Agencies]
BASEL, Switzerland - Sevilla extended Spain's dominance of European competition when they won the Europa League for the third time in a row on Wednesday, soundly beating Liverpool 3-1 in the final.
Their title meant that, with Real Madrid and Atletico Madrid clashing in next week's Champions League final, Spanish clubs will have won both European competitions for each of the last three seasons.
Eight of the last 13 teams to win the Europa League have come from Spain, with Sevilla victorious five times, while the Champions League will go to a La Liga side for the fifth time in eight seasons.
Sevilla coach Unai Emery also joined Giovanni Trapattoni as they only manager to have won the Europa League, or its predecessor the UEFA Cup, three times.
Liverpool coach Juergen Klopp had praised Spanish clubs on the eve of the match, saying they had better scouting, coaches and player development than their English, German and Italian equivalents.
"Maybe, it's not for us to say it, others should analyse," Emery told reporters.
"I have my own theory. Perhaps, the standard of Spanish football is very good. But is has also been proved that Spanish teams compete passionately. They are able to reach highest levels of European football and we have been able to win against teams better than us."
Unlike Real Madrid and Barcelona, who cherry-pick the world's top players, Sevilla are a more modest outfit who have successfully carved a niche for themselves.
They bear more of a resemblance to Portuguese teams Benfica and Porto in the way that they manage to reinvent themselves season after season, despite selling their top players to richer clubs.
Those to have left the club over the last five seasons include Carlos Bacca, Ivan Rakitic, Alberto Moreno, Alvaro Negredo, Jesus Navas, Geoffroy Kondogbia, Gary Medel and Martin Caceres. Yet, expert scouting has enabled them to fill the gaps.
English teams often regard the Europa League as a nuisance which clutters up the fixture list, preferring to concentrate on qualifying for the Champions League by finishing in the top four of the Premier League.
Sevilla, with little hope of winning La Liga where they have finished fifth in the last two seasons, have realised that it represents a real chance of silverware as well as a back door to the Champions League.
"The Europa League has given us a lot," Emery said. "At Sevilla, we love this competition. It is our competition and we have underlined that once and again. The Champions League is an opportunity to improve but the reality is this competition is growing."