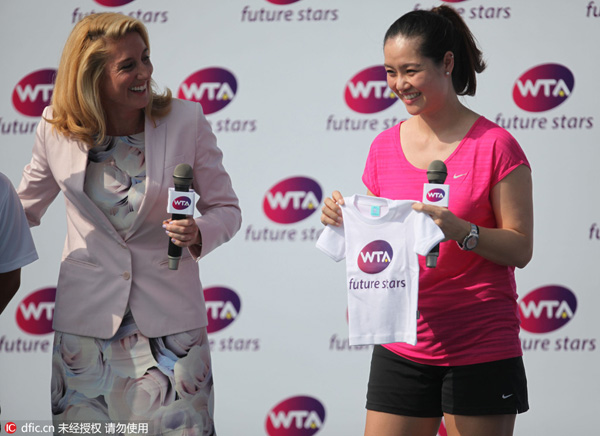 Retired Chinese tennis star Li Na, right, shows a baby tee shirt in a master class during the 2015 WTA Wuhan Open tennis tournament in Wuhan city, central China´s Hubei province, Sept 29, 2015. [Photo/IC]
Chinese tennis superstar Li Na is officially chosen as the global ambassador of the Wuhan Open, one of China's three major tennis tournaments and also part of the Premier 5 tournaments on the WTA Tour.
The announcement was made during a launch event of the 2016 Wuhan Open on May 10 in the central Chinese city of Wuhan. Li, absent at the press conference, said in a video that "I'm Li Na and I will be waiting for you at the Wuhan Open."
The two-time Grand Slam champion, a Wuhan native herself, hopes the tournament could help all ordinary people to have access to tennis and enjoy the game, which could also be seen as an extension of her own tennis career.
As the global ambassador, the winner of the 2011 French Open will return to Paris for the forthcoming 2016 French open, which will kick off on May 22 at Roland Garros.
On the sideline of the French Open, well-designed promotion events of the 2016 Wuhan Open will present Wuhan, the City of Tennis and Tourism, to global tennis lovers. Global tickets service for this year's Open will also be sold at the event.
At the same time, four selected "teen ambassadors" of the Wuhan Open - Xu Pulong, Li Mingji, Zhang Zixuan and Ye Zixin - will join other talented ball kids from around the world to serve at this year's French Open. The four ball kids from Wuhan are expected to meet with Li Na in Paris during the game, which will run until June 5.
The 34-year-old Li Na bid farewell to professional tennis in September, 2014 as the reigning champion of Australian Open. Mother of a one-year-old girl, she is set to make another transition to become a business woman in the tennis industry.
Debuted in the 2014 season, the Wuhan Open is held annually in September at the Wuhan Optics Valley International Tennis Center with a total of 15,000 seats. It has become the second-largest women's tennis tournament in East Asia, following the China Open in Beijing.