BERLIN -- Watching the calmness of Joachim Loew, it does not seem to be a hard job preparing a football team for a major tournament.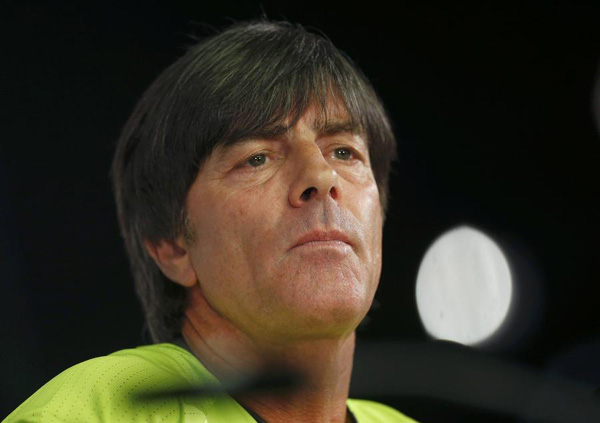 23/03/16 Germany coach Joachim Loew attends for news conference prior to international friendly against England in Berlin, Germany, March 23, 2016. [Photo/Agencies]
At least that is the message Loew is trying to spread ahead of Euro 2016 in France. Not even in one of his rare gestures could one spot a shimmer of restlessness, nor could you hear anything in his statements.
No doubt the 56-year-old German head coach has gone through a maturation process, despite being one of the favorites for France with all expectations that come with it. The 3-2 defeat against England (after leading 2-0 - Germany's goals were scored by Toni Kroos and Mario Gomez - Harry Kane, Jamie Vardy and Eric Dier scored for England) gave evidence of Loew's strength of nerve.
"Games like that are always teaching lessons and for us an opportunity to improve," Loew said.
For many, the 2014 World champion Germany has to carry the burden of being the big favorite with an obligation of reaching at least the semifinal. At the same time, Loew has to build a new team as the Brazil squad does not exist anymore.
Moreover Loew has to be patient until shortly before France 2016 as key-players like Bastian Schweinsteiger (Manchester United) or Jerome Boateng (Bayern Munich) are currently trying to recover from serious injury. No one can currently predict if they will be back on time for France. And the number of pundits, telling him which player to choose, is traditionally rising with every day.
Many reasons justify the signs of unrest. But Loew meanwhile is experienced enough to act in a programmatic way. He has been through difficult situations before, like in 2006 as the assistant coach under Juergen Klinsmann when Germany lost to Italy in one of the last warm-up matches 4-1. The country was plunged into widespread depression and nobody trusted the coaches. There was a mountain to climb. Klinsmann and Loew stayed calm and finished third in the end.
In 2012, expectations in advance of the Euro tournament in Poland and Ukraine nosedived after a 4-4 draw against Sweden when Germany blew a 4-0. Loew had to survive a lot of criticism. All of a sudden, he was the coach you can't win a major tournament with. Maybe back in those days Loew decided to keep his thoughts to himself and not be influenced from the outside.
Now pragmatism instead of an over-exited policy seems to be his answer. Having won the 2014 World Cup might have enforced Loew's independence. In his first years, he seemed to be acting in a more missionary fashion than these days. The German head coach is meanwhile acting like an elder statesman that has been through several dark hours and having always answered challenges in the best way.
"We have two to three weeks in advance of the tournament to get things sorted out," Loew said.
Loew's message is clear: We take the players we get and do the best with the material we have.
There is enough time to find the best starting eleven before the beginning of June. The 23-man squad has to be named in the middle of May. The England game, always more than just a friendly, is important but it does not decide anything regarding Euro 2016.
Even when it came to the delicate question whether the tournament possibly will have to be played without spectators for security reasons after the latest terror attacks, German General Manager Oliver Bierhoff showed no sign of panic when answering, "We would accept that if we had to but nobody wants something like that to happen."
Instead of moaning about the circumstances, Loew remains composed and is working out a plan that leaves him space for options depending on the situation at the start of the tournament. At the same time Loew is gently demanding his candidates to deliver clear signals as to their determination to be successful on the international stage.
"I told them that I want to see some commitment during our build-up to France," said Loew. When saying that, Loew was talking about the last two friendlies (Germany versus Italy next Tuesday) as well, but he does not see the games as do-or-die matches.
Loew regards the last games as opportunities to test several options and gain an insight into what needs to be done to do well at a major tournament like France. Not many coaches would choose such big names like England and Italy in the preparatory phase. But it is a message. Meaning: Germany's head of (football) state is a well-balanced strategist.
In Loew's starting eleven, Kroos was the stand-out player (a possible Schweinsteiger replacement and leader). The Madrid midfielder put his side 1-0 up just before half-time.
After the break, Hummels was replaced by the 20-year-old newcomer and central defender Jonathan Tah (Bayer Leverkusen/a possible Boateng replacement).
Mario Gomez, who missed the 2014 World Cup and was off Loew's radar for a long time, was one of the positives in the England game. The 30-year-old has won his old self-confidence back having scored 19 goals so far in the Turkish league.
Additionally the striker scored the second German goal while regulars Thomas Mueller and Mesut Oezil were below par. But looking at Loew's tournament approach they don't have to be in top form now. The German head coach knows about their abilities when it comes to the games that matter, despite having lost against England.