'Multiple' teams eyeing chance to make history
Asserting that China is too big a market to ignore, National Football League commissioner Roger Goodell said on Wednesday the league is working toward seeing the nation host a regular season game within the next two years.
Speaking at a media conference at the end of the NFL owners meetings in Boca Raton, Florida, Goodell said "multiple" teams were interested in participating in the league's first game in Asia.
"The size and the influence of China in the global marketplace is obviously something that you can't ignore," said Goodell.
"You can't ignore that as a sport, or a business or as a nation.
"We know we have lots of fans in China and, more importantly, potential fans over there."
Goodell also said the NFL, which has scheduled three regular season games in London during the 2016 season and another in Mexico City, was spending "a great deal of time" talking about further international expansion.
He said a regular season game in China would increase the NFL's popularity, and that there was no shortage of teams lining up to make the trip.
"As far as the teams, we actually have multiple teams interested in going to China. We have more than we can handle at this point in time, which is a good issue," Goodell said.
"I think teams are interested in participating in how we expand our game on a global basis, but in particular in China. We will have to go through that process over the next several months."
The Los Angeles Rams, who are already scheduled to play the New York Giants at London's Twickenham Stadium this year, have been mentioned in multiple reports as a team interested in making the trip to China for a game during the 2018 season.
China was scheduled to host a preseason NFL game in 2007 to kick off the one-year countdown to the 2008 Beijing Olympics, but the game between the New England Patriots and Seattle Seahawks was postponed and ultimately canceled.
Two-foul ejection
In other news from the owners meetings, the NFL will test a new rule next season under which players will be ejected from games if they receive two unsportsmanlike conduct penalties.
The rule was one of several passed on the final day of the meetings.
In another rule change adopted on a one-year trial basis, the league moved the touchback after kickoffs to the 25-yard line in an attempt to limit the number of returns.
That was in response to a marked increase in injuries on the play in 2015.
The new rules will be reviewed after next season.
"We felt like we needed a rule to make sure the players are held accountable to do what they are expected to do," Atlanta Falcons president and NFL competition committee chairman Rich McKay said of the two-foul ejection.
First proposed by Goodell, the rule has already divided coaches and players.
Carolina Panthers head coach Ron Rivera was one of the supporters.
"There will be more discussions, and there will be another set of meetings that will happen," Rivera said.
"But I think the intent and the idea of making sure there is some sort of discipline, whether it is at the referee's discretion or through two strikes and you're out, it might make sense."
San Francisco 49ers head coach Chip Kelly disagreed.
"You ever see A Few Good Men?" Kelly said.
"Why the two orders? Right? If you already have the ability to throw players out of the game, why do we have to put a second order in to throw them out of the game?
"Just throw them out of the game. If they're not playing the right way, and we already have the ability to eject them, why do we have to put another order in?"
Seattle Seahawks cornerback Richard Sherman called the new rule "foolish".
"It sounds like something somebody who's never played the game would say, something that they would suggest, because he doesn't understand," Sherman told ESPN.
"He (Goodell) has never stepped foot on the field and understood how you can get a personal foul."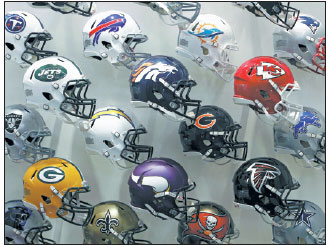 Team helmets are displayed at the NFL headquarters in New York. The leauge is exploring staging a regular season game in China within the next two years. Reuters Files
(China Daily 03/25/2016 page22)