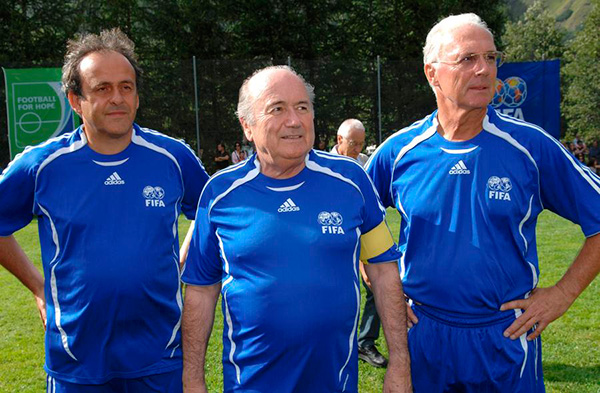 Then FIFA president Sepp Blatter is flanked by former UEFA president Michel Platini (left) and German soccer legend Franz Beckenbauer at a youth tournament in Blatter's hometown of Ulrichen, Switzerland, in 2007. Jeanbernard Sieberarc / Reuters
The FIFA ethics committee on Tuesday opened a bribery investigation into German soccer legend Franz Beckenbauer and other officials from the 2006 World Cup bid team.
Ethics prosecutors acted amid rising suspicion of wrongdoing linked to the winning of hosting rights in 2000, and irregular seven-figure payments years later.
Beckenbauer, current FIFA executive committee member Wolfgang Niersbach and other officials were targeted three weeks ago in an inquiry report by a law firm commissioned by the German soccer federation.
The new FIFA case picks up on that inquiry and relates to "the 2006 FIFA World Cup host selection and its associated funding", ethics prosecutors said in a statement.
Beckenbauer is among four officials linked to suspect payments and contracts during the bidding process.
Germany won by beating South Africa 12-11 in a vote of FIFA executive committee members.
"The investigatory chamber will investigate possible undue payments and contracts to gain an advantage in the 2006 FIFA World Cup host selection and the associated funding," the FIFA ethics committee said.
The other three German officials linked to possible bribery are: Theo Zwanziger, who replaced Beckenbauer on the FIFA executive committee in 2011; Horst Schmidt, vice-president of the World Cup organizing panel; and Stefan Hans, chief financial officer for the organizers.
Last month, a 361-page inquiry tried to explain a complex trail about payments of 6.7 million euros ($7.3 million) and 10 million Swiss francs ($10 million) that linked Beckenbauer, then-FIFA president Sepp Blatter, FIFA power-broker Mohamed bin Hammam and Robert Louis-Dreyfus, the late former adidas executive and part owner of Swiss marketing agency Infront.
The report pointed to deeper involvement by Beckenbauer than had been suspected. The man known as 'Der Kaiser' is the only player to captain and coach World Cup-winning teams who then organized a successful tournament.
FIFA prosecutors have now put Niersbach and 2006 tournament director Helmut Sandrock under investigation for "possible failure to report" unethical conduct and conflicts of interest.
"The list of violations may be supplemented as additional information becomes available," FIFA ethics prosecutors said.
Investigations by German prosecutors and tax officials of suspected tax evasion by the German soccer federation led Niersbach and Sandrock to resign in recent months as its president and general secretary, respectively.
Niersbach said he will "cooperate in every aspect" with the ethics commission, according to German news agency dpa.
Swiss federal prosecutors are also investigating the 2006 World Cup allegations as part of a wider probe of FIFA's business.
The probe has already put Blatter under criminal investigation for two separate acts of suspected financial mismanagement.
Beckenbauer is back under suspicion at FIFA one month after its ethics judges sanctioned him in another case. He was warned and fined 7,000 Swiss francs for refusing to cooperate with a FIFA ethics investigation of the 2018-2022 World Cup bidding contests.
The former Bayern Munich and New York Cosmos great has denied wrongdoing or that hosting votes were bought.
Beckenbauer, now 70, resigned last week from a television analyst job with the Sky Germany channel.