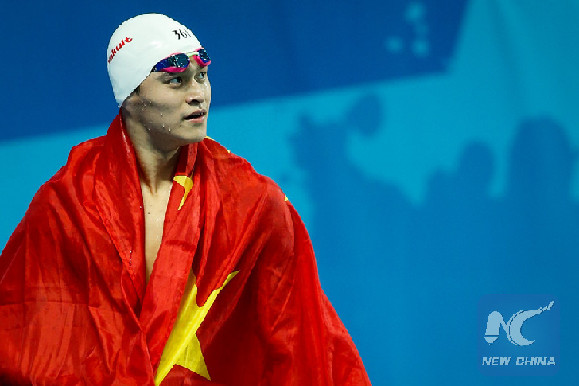 Defending champion Sun Yang celebrates 800m freestyle victory at swimming world championships on Aug 5, 2015, in Kazan, Russia. [Photo/Xinhua]
Chinese Olympic champion swimmer Sun Yang suffered a foot injury while training in Australia on Friday, needing six weeks to recover.
He grimaced in pain when he fell on the ground during a jumping exercise session. Chinese team doctors sent him to hospital after giving him initial treatment. X-ray picture showed he got a fracture in his fifth metatarsal bone in the right foot.
Sun told Xinhua that the local hospital had two treatment plans for him, surgery or "conservative treatment". Sun chose the latter after discussion with the team doctors but didn't elaborate on how the treatment would go.
"It hurt so bad and I almost cried this morning," Sun said. "But I try to think in a positive way and I believe I'll get through it.
"Don't worry about me. The injury won't upset my preparation for the Rio Olympics."
The injury forced Sun out of the 2016 Perth Aquatic Super Series, therefore the outcomes of his two-week training in Australia cannot be immediately tested in the competition.
Sun will continue his training plan in Australia and is expected to return to China in mid-March.