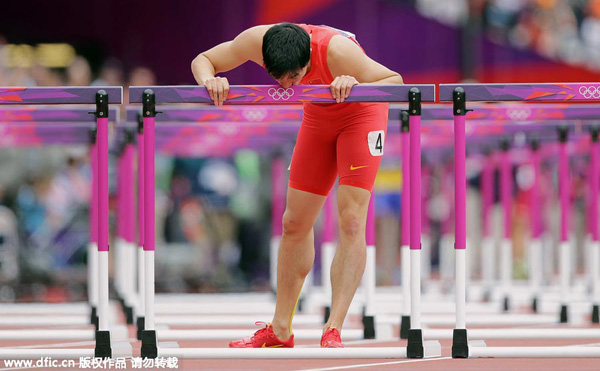 Liu kisses his hurdle after falling in a 110m hurdles heat at the London 2012 Olympic Games, on Aug 7, 2012. [Photo/IC]
The year of 2015 also witnessed the emotional farewell of China's icon hurdler Liu Xiang who announced retirement in early April and waved goodbye to fans and his beloved track at a special ceremony during the Diamond League Shanghai meet in May.
Wearing white sneakers, dressed in jacket and jeans, the 2004 Olympic champion and former world record holder presented awards to the 110m hurdles podium finishers and hugged his once arch rivals David Oliver, Orlando Ortega and Aries Merritt before attending the farewell ceremony.
On the stage, Liu turned around to wipe his tearful eyes before he could give a word. A big screen in the stadium played a video recalling Liu's splendid yet up-and-down career, including his Olympic winning race in Athens and record breaking run in Lausanne, Switzerland in 2006, also disappointing withdrawals from two Olympics.
"Over the years, the track and hurdles have been going side by side with my young days. In my career, I had never shrunk, never evaded reality, but everyone has ups and downs. It's you who make me feel so appreciative and thankful. Thanks a lot for your support, otherwise my life wouldn't be so brilliant," said Liu in his farewell speech in review of his 19-year dramatic career.