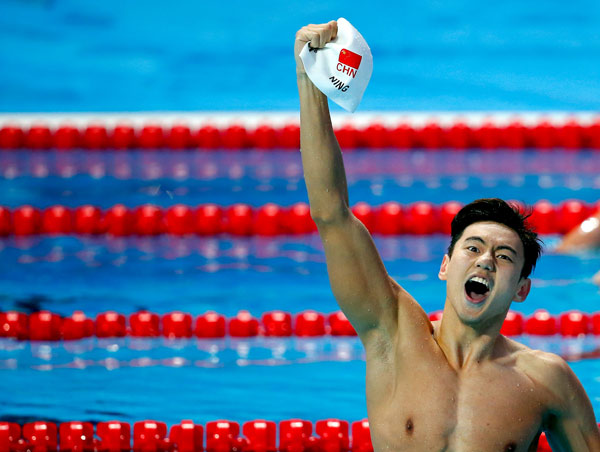 China's Ning Zetao celebrates after winning the men's 100m freestyle final at the Aquatics World Championships in Kazan, Russia, August 6, 2015. [Photo/Agencies]
BEIJING - China strengthened its swimming power in the year of 2015, keeping an ambitious eye on the Rio Olympics 2016.
The historic breakthrough was made in the men's pool, which had been behind the women's for many years.
The 22-year-old Ning Zetao stunned the world at the FINA World Championships in Kazan, Russia, in August when he triumphed in the blue-ribbon men's 100-meter freestyle final in 47.84 seconds.
Ning, the first Asian swimmer to have broken the 48-second barrier in the 100m, ended the Western domination and became the first Chinese and Asian swimmer to enter the event's final and win at world championships.
The Chinese navy lieutenant had shown his talent at the Asian Games last year in Incheon, South Korea, where he collected the 50m and 100m freesytle, 4x100m freestyle relay as well as the 4x100m mixed relay titles. He also holds the Asian record of 100m of 47.65 seconds.
Ning has been one of the most famous athletes in China. Along with Sun Yang, Ning is expected to win a medal at the Rio Olympics 2016.
Sun, the London Olympic champion, is still the biggest medal hope for Chinese swimming at the Rio Games. He went through a hard time after his doping ban was revealed last year.
He had tested positive for the banned stimulant trimetazidine during the national championships last May and was banned for three months from May 16 to Aug 17.
Sun has been barred from training in Australia and his Australian coach Cotterell wasn't allowed to coach Sun as a result of the new policy to be implemented by Swimming Australia.
The 23-year-old swimmer overcame those difficulties to win the 400m and 800m free titles at the Kazan worlds. He withdrew from his signature 1,500m free due to heart discomfort.
Sun kept his form after the worlds, winning three titles at the National Championships in September, his last competition in the year.
The Chinese women's swimming dimmed a little as butterfly queens Jiao Liuyang and Liu Zige were both out of form. It has been hard to see London Olympic champion Jiao in the pool as she only took part in the National Championships in April this year and made poor results.