Barcelona star's trophy case gets familiar addition
Barcelona star Lionel Messi, the favorite to win FIFA's prestigious Ballon d'Or title, on Monday was voted the top striker in the Spanish league, ahead of Real Madrid rival Cristiano Ronaldo.
It marks the sixth time the Argentine has won the title in seven editions of the trophy, with the prize presented during a gala ceremony in Barcelona on Monday night.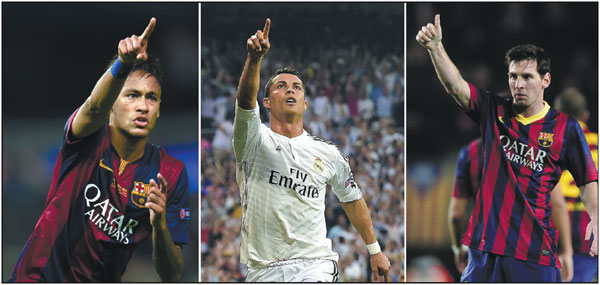 Barcelona stars Neyma (left) and Lionel Messi and Real Madrid's Cristiano Ronaldo in this composite of the three finalists for the 2015 Ballon d'Or, awarded to the world's best player. Messi has won the award four times and Ronaldo has claimed it three times, while Neymar is a finalist for the first time. Patrik Stollarz / Gerard Julien / Josep Lago / AFP
Bayern Munich's Pep Guardiola (left), Barcelona's Luis Enrique and Chile's Jorge Sampaoli have been shortlisted for FIFA coach of the year honors. AFP
Messi, who scored 43 goals and was the catalyst for Barcelona's run to three titles last season - the Champions League, La Liga and the Spanish Cup - was selected following a computer analysis of statistics in the championship.
"I'm proud to receive this award ahead of so many important players in La Liga," said Messi.
"This award in particular I want to dedicate to my son Thiago (aged 3), even if he still doesn't understand very well. Every time I leave the house he gets angry and asks me: 'Papa, are you going again to score goals?' This award is for him."
Messi also won the vote for the best striker following a poll of the captains of each of Spain's top flight sides.
Barcelona's Claudio Bravo was voted the best goalkeeper and Luis Enrique top coach while Real Madrid's Sergio Ramos and James Rodriguez were named best defender and top midfielder, respectively.
Valencia's Algerian midfielder Sofiane Feghouli was voted the top African player and Barcelona's Brazilian striker Neymar, the best player from the American continent.
Real Madrid's Portuguese star Ronaldo, who scored the most La Liga goals last season with 48, won the public's choice award.
Ronaldo, Messi and Neymar were all named on Monday's shortlist for FIFA's Ballon d'Or which will be awarded on Jan 11.
While Ronaldo has triumphed over the past two seasons (in a total of three wins), Messi has previously claimed the coveted award four times while Neymar makes the shortlist for the first time.
Neymar, 23, said it was "a great honor" to be named for the first time alongside his illustrious La Liga rivals.
For the seventh time in eight years, the dynamic duo of Barcelona's Messi and Real Madrid's Ronaldo are expected to fill the top two places on the podium in Zurich in January for the coveted accolade of being the year's leading player.
Even before the award was merged with France Football's Ballon d'Or in 2010, the World Player of the Year had effectively become an annual private 'Clasico' between two of the great players of any generation.
Messi, who will now have been on the podium for an amazing nine successive years, won four times in succession between 2009 and 2012, while Portugal's Ronaldo has won three times - once when he was at Manchester United in 2008 and the most recent two editions at Real Madrid.
Overwhelming favorite
The only time in the past seven years when they did not finish 1-2 was in 2010, when the Barcelona trio of Messi, Andres Iniesta and Xavi swept the podium.
Messi is an overwhelming favorite to lift the trophy again for a fifth time after a calendar year in which, despite losing two months to injury, he has still scored 48 goals while inspiring Barca to a Champions League/La Liga/King's Cup treble.
Ronaldo, too, has 48 goals to his name for club and country in 2015, but Real's fortunes have slumped and his repeated assurances on the talk show circuit that he is still the world's best player have held just a little less conviction than usual.
On his present scintillating form, Brazilian Neymar, Messi's partner in destruction along with Luis Suarez at Barca, has a claim on being the equal of either of them.
The Ballon d'Or vote has been made by national team coaches and captains and leading journalists, with the winner being announced at a ceremony in Zurich on Jan 11.
Enrique, who coaches Messi and Neymar at Barcelona, heads the short list for the coach of year award, along with Bayern Munich's Pep Guardiola and Chile coach Jorge Sampaoli.
Guardiola's inclusion was possibly a surprise as Bayern Munich's only trophy last season was the Bundesliga - the very minimum that would have been expected - although his team's form this term has been nothing short of magnificent.
Sampaoli, an Argentine, was included after leading Chile to its first Copa America title, which it won at home after beating Argentina on penalties in the final.
World Cup-winning captain Carli Lloyd (USA/Houston Dash), Aya Miyama (Japan/Okayama Yunogo Belle) and Celia Sasic (Germany/FFC Frankfurt) are in the running for the FIFA Women's World Player of the Year award.
And Jill Ellis (US/US national team), Mark Sampson (Wales/English national team) and Norio Sasaki (Japan/Japanese national team) are the final trio to battle it out for the FIFA World Coach of the Year for Women's Football award.
Past Ballon d'Or winners
1956: Stanley Matthews (ENG)
1957: Alfredo di Stefano (ESP)
1958: Raymond Kopa (FRA)
1959: Alfredo di Stefano (ESP)
1960: Luis Suarez (ESP)
1961: Omar Sivori (ITA)
1962: Josef Masopust (CZE)
1963: Lev Yachine (USSR)
1964: Denis Law (SCO)
1965: Eusebio (POR)
1966: Bobby Charlton (ENG)
1967: Florian Albert (HUN)
1968: George Best (NIR)
1969: Gianni Rivera (ITA)
1970: Gerd Mueller (GER)
1971: Johan Cruyff (NED)
1972: Franz Beckenbauer (GER)
1973: Johan Cruyff (NED)
1974: Johan Cruyff (NED)
1975: Oleg Blokhine (USSR)
1976: Franz Beckenbauer (GER)
1977: Alan Simonsen (DEN)
1978: Kevin Keegan (ENG)
1979: Kevin Keegan (ENG)
1980: Karl-Heinz Rummenigge (GER)
1981: Karl-Heinz Rummenigge (GER)
1982: Paolo Rossi (ITA)
1983: Michel Platini (FRA)
1984: Michel Platini (FRA)
1985: Michel Platini (FRA)
1986: Igor Belanov (USSR)
1987: Ruud Gullit (NED)
1988: Marco van Basten (NED)
1989: Marco van Basten (NED)
1990: Lothar Matthaeus (GER)
1991: Jean-Pierre Papin (FRA)
1992: Marco van Basten (NED)
1993: Roberto Baggio (ITA)
1994: Hristo Stoichkov (BUL)
1995: George Weah (LBR)
1996: Matthias Sammer (GER)
1997: Ronaldo (BRA)
1998: Zinedine Zidane (FRA)
1999: Rivaldo (BRA)
2000: Luis Figo (POR)
2001: Michael Owen (ENG)
2002: Ronaldo (BRA)
2003: Pavel Nedved (CZE)
2004: Andrei Shevchenko (UKR)
2005: Ronaldinho (BRA)
2006: Fabio Cannavaro (ITA)
2007: Kaka (BRA)
2008: Cristiano Ronaldo (POR)
2009: Lionel Messi (ARG)
2010: Lionel Messi (ARG)
2011: Lionel Messi (ARG)
2012: Lionel Messi (ARG)
2013: Cristiano Ronaldo (POR)
2014: Cristiano Ronaldo (POR)
(China Daily 12/02/2015 page22)