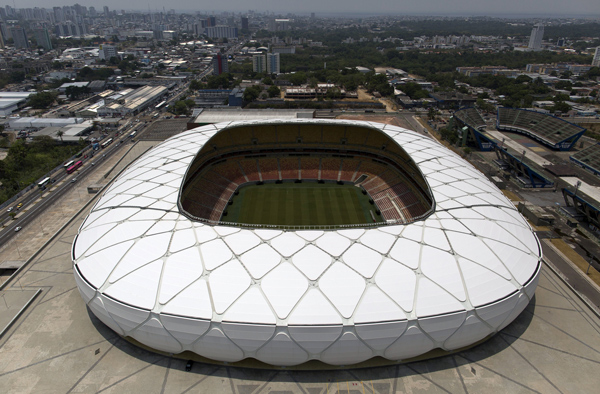 A view of the Arena da Amazonas Stadium that will host soccer matches in the Rio 2016 Olympic Games in Manaus, Brazil, Oct 1, 2015. [Photo/Agencies]
RIO DE JANEIRO - The first 50,000 volunteers have been chosen to work at the Rio 2016 Olympic and Paralympic Games while the United States, Britain, Russia and China lead non-Brazilians selected.
The announcement was made on Thursday evening and the candidates, who applied from August 2014 and have taken part in the selection process throughout this year, can check on the official website for Rio Olympics volunteers to see if their names are among the first selected.
Of the 50,000 approved candidates, 82 percent are Brazilians. Among the 18 percent of non-Brazilians, the largest group is from the United States, followed by Britain, Russia and China. Among the Brazilians selected, more than half are from the state of Rio de Janeiro, with Sao Paulo (21 percent) and Minas Gerais (six percent) accounting for the next highest proportions. Among the Brazilians chosen, 55 percent are women and 40 percent are 25 or younger, while another 40 percent are between 25 and 45.
Successful candidates will be sent letters of invitation by email, which will provide details of the roles they have been selected for, and which departments and venues they will work in. Upon receiving the letter of confirmation by email, they will have 10 days to accept the offer. Once they have accepted the offer, they will officially become Rio 2016 volunteers.
There are 70,000 Rio 2016 volunteer positions available, 45,000 for Olympic Games and 25,000 for Paralympic. Many applications are still being analysed and could appear on future lists.