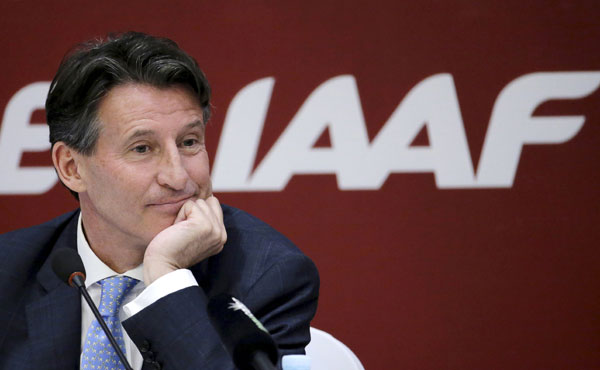 Newly elected President of International Association of Athletics Federations Sebastian Coe listens to a question at a news conference in Beijing, in this August 19, 2015 file photo. [Photo/Agencies]
PARIS -- IAAF president Sebastian Coe announced Thursday that he's quit his role as an ambassador for Nike.
The head of world athletics governing body, who earned $151,000 (about 142,000 euros) annually from his professional relationship with the American sportswear firm, made the decision on the heels of a series of scandals surrounding the IAAF and latterly implicating himself personally.
An investigation into the awarding of the hosting rights for the 2021 World Athletics Championships to Eugene, the United States without a real bidding process has become a hit topic recently.
Bjorn Eriksson, who led the rivalry candidate city against Eugene, Gothenburg of Sweden, told British media that Coe had been aggressively lobbying his predecessor Lamine Diack to award the 2021 tournament to Eugene.
Coe has denied any wrongdoing and said he was stepping down to focus on cleaning up IAAF. Eugene, where Nike was founded, was given the 2021 championships last April, while Coe was elected as IAAF chief in August.
"I have sought advice from the IAAF's Ethics Committee to review my interests and was told I could retain my positions in Nike and (sports marketing company) CSM as long as I do not seek to influence any decisions that could influence them," Coe told the press after an IAAF Council meeting on Thursday in Monaco.
"I'm grateful for that advice but it is clear that perception and reality have become horribly mangled," he said.
"I've made the following decisions: I've stepped down from my ambassadorial role with Nike which lasted 38 years. The current noise level around it is not good for Nike or the IAAF and is a distraction," Coe added.