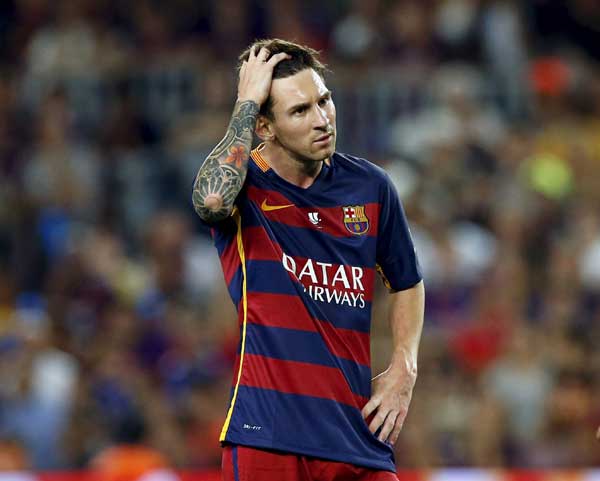 Barcelona's Lionel Messi gestures against Athletic Bilbao during their Spanish Super Cup second leg soccer match at Camp Nou stadium in Barcelona, Spain August 17, 2015. [Photo/Agencies]
MADRID - A Spanish court has ordered Lionel Messi and his father Jorge to stand trial in a tax fraud case and the state attorney said Barcelona's star player should serve a jail sentence of up to 22 months if found guilty.
The two men are accused of defrauding the Spanish state of 4.2 million euros ($4.5 million) in tax from 2007 to 2009.
Court documents published on Thursday said the hearings in the case would take place at a court in Vilanova i la Geltru near Barcelona but gave no date.
The stance of the state attorney, which defends the interests of the Spanish state, contrasts with that of Spain's public prosecutor, who has said the soccer star should not have to answer the charges as his father oversaw his finances.
The company that controls Messi's image rights, Leo Messi Management SLU, issued a statement which said Messi's defence team would present evidence in court "in coming weeks" that would show the state prosecutor's stance was the correct one and not that of the state attorney.
"The jail sentence that the state attorney is asking for does not mean it would be served in full," the statement added.
The public prosecutor this week recommended a jail sentence of 18 months and fines of more than 2 million euros for Jorge Messi.
Lionel Messi and his father have already paid 5 million euros to the tax authorities as a "corrective" measure after they were formally charged in June 2013.
A Spanish court has previously ruled that Lionel Messi, 28, could have known about and approved the creation of a web of shell companies allegedly used to evade taxes on income from image rights.
Revenue was hidden using companies in Uruguay, Belize, Switzerland and the United Kingdom, according to the prosecutor's office.
Argentina-born Messi has been resident in Barcelona since 2000 and has had Spanish citizenship since 2005.
He is 10th on Forbes Magazine's list of the world's highest-earning athletes over the past decade, with income of $350 million.