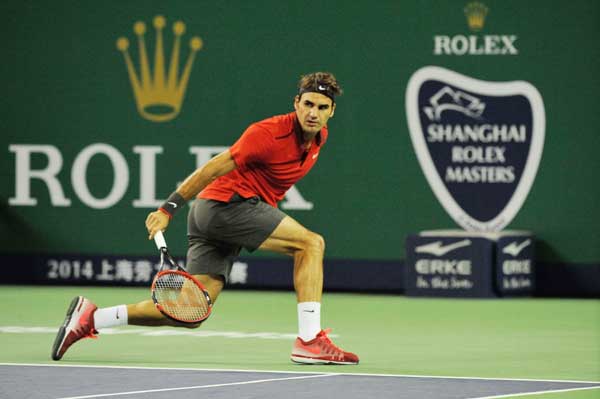 Swiss tennis super star Roger Federer. Rolex/Gianni Ciaccia
Further Involvement
Rolex is also the official timekeeper of the Association of Tennis Professionals World Tour and its championship, the ATP World Tour Finals, as well as the official timekeeper of the WTA Championships. The ATP World Tour Finals and the WTA Championships bring together the top eight male and female singles players and doubles teams at different venues each year for an end-of-season tournament. Glamour abounds at the Monte-Carlo Rolex Masters every April when the leading players compete for an ATP World Tour Masters 1000 title on clay courts overlooking the Mediterranean Sea.
In Shanghai, Rolex is very proud to be the title sponsor of the Shanghai Rolex Masters. Inaugurated in 2009, it is considered the best tennis event for men in Asia. In its first five years, it was designated Masters 1000 of the Year by ATP players.
In addition to these, Rolex is associated with other Masters 1000 competitions, including the Mutua Madrid Open, the Internazionali BNL d'Italia in Rome, the Rogers Cup in Canada, the BNP Paribas Masters in Paris and the BNP Paribas Open in Indian Wells, California.
Of the Masters 500 tournaments on the ATP World Tour, Rolex is proud to be associated with the China Open in Beijing, the Dubai Tennis Championship and the Rio Open in Rio de Janeiro. Rolex also participates in the development of tennis through its support of the Davis Cup, organized by the International Tennis Federation, and the annual Hall of Fame Tennis Championships, played on grass in Newport, Rhode Island, where great players are inducted into the International Tennis Hall of Fame. Past Rolex Testimonees Rod Laver, Bjorn Borg and Chris Evert were honored in 1981, 1987 and 1995, respectively.
Testimonees
In further patronage of tennis' exceptional individuals, Rolex counts Federer among its trusted advocates. Federer held the No 1 position in men's tennis for more than 300 weeks — a record — and is the winner of an unsurpassed 17 Grand Slam victories, one Davis Cup title (in 2014) and a silver medal at the 2012 Olympic Games in London.
Like a Rolex watch, tennis requires absolute precision and consistency, and Federer, who has been associated with the brand since 2001, has mastered the game better than any other player in history. The men who play against him are the first to attest to his undeniable skill.
Rolex also stands behind Belinda Bencic (Switzerland), Grigor Dimitrov (Bulgaria), Ana Ivanovic (Serbia), Li Na (China), Juan Martin del Potro (Argentina), Milos Raonic (Canada), Sloane Stephens (United States), Jo-Wilfried Tsonga (France), Eugenie Bouchard (Canada) and Caroline Wozniacki (Denmark).