Captain Nick Price on Tuesday paid tribute to Anirban Lahiri - the first Indian to play in the Presidents Cup and the joker in the pack of Price's International team.
"He brings a great sense of humor to the team," Price told a news conference at the Jack Nicklaus Golf Club in Incheon, venue for the 11th Presidents Cup which is being hosted for the first time in Asia and opens on Thursday.
"A lot of guys didn't realize how funny he is but he has a really good sense of humor and he's just so keen to get out there and play," said Price, noting the world No 39 had already established himself as a firm team-room favorite.
"We're very happy he's on the team."
But Price said there is more to the man who has won twice on the European Tour this year and finished fifth in the US PGA Championship than just being good for a laugh.
"We met in Fiji last year, and I went up to him, because he had been progressing up the rankings," said Price, adding he was instantly impressed by Lahiri's determination and hunger to make the team.
"He expressed to me he really wanted to play on the Presidents Cup, and that made me feel very proud," said Price.
"You want guys out here who are wanting to play. So he's really looked forward to that.
"I've seen him a little bit over the years, but I think it's a huge bonus for us to have an Indian on our team for the first time.
"We know how big golf has become in India, and all of us hope that maybe one day the Presidents Cup will go to India."
Price said his players had been gelling well and he had a strategy for Thursday's opening foursomes - but he wouldn't reveal any pairings yet.
"Take away the golf, take away everything else; do they get on as two individuals?" said Price when asked how he would go about his selections.
"And the second thing is, you look at how their games match up together. Are they better at foursomes or would they be better at best-ball? So there's a lot of strategy involved."
Price's hands may be partially tied as he thinks about which two players to leave out of the opening five foursomes pairings, as 2011 Masters champion Charl Schwartzel has not been well since arriving in Incheon on Monday morning.
"Everyone is keyed up, the team is ready to play," said Price. "Apart from Charl (Schwartzel) who had a little bit of a bug. He had a vitamin B12 shot this morning the doctor gave him, so hopefully he'll be OK. Other than that, everyone is raring to go."
AFP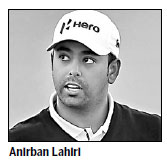 (China Daily 10/07/2015 page11)