OTTAWA - The possible ban of captain Abby Wambach and suspension of two starters are not concerned by the American team when they face China in the quarter-finals of the Women's World Cup on Friday.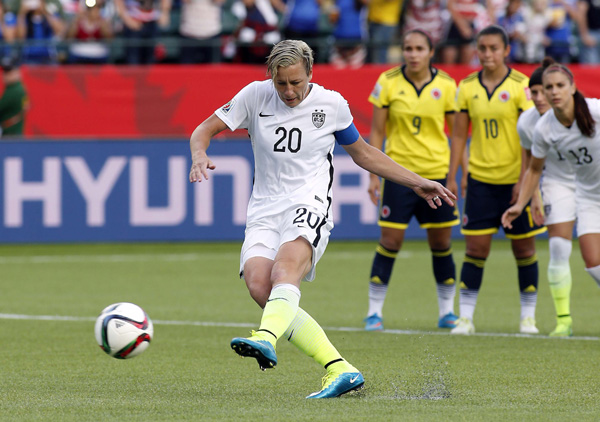 United States forward Abby Wambach (20) kicks a penalty kick during the second half against the Colombia in the round of sixteen in the FIFA 2015 women's World Cup soccer tournament at Commonwealth Stadium. [Photo/Agencies]
The title favorites US had their first practice after round of 16 on Wednesday here, two days before the kick-off of another U.S.-China match-up at the World Cup, while China have six-day break from last match.
Lauren Holiday and Megan Rapinoe are suspended due to two yellow cards each in previous matches, and Wambach might be banned for her critical remarks against referees of last match against Colombia.
"Abby is our leader, our captain. We've been an incredible team to keep our bubble untact," said Lori Chalupny before Wednesday's training. "She wants to be something around, something to play. I have no problem with that."
Talking about the referees, she said, "If I'm focusing on something I'm not able to control, I'll be crazy for the whole World Cup. So we move on and hopefully we get a good referee in the game against China."
Cameroon, which lost to China 1-0 in the round of 16, tagged China as one of the best defensive teams in the tournament. The Americans gave the same credit to their next opponents.
"China are very good defensively. They have numbers behind the ball, keeping the space very compact. It's tough to break that down," Meghan Klingenberg said.
"China are very organized. They had a great tournament," Carli Lloyd said. "It is not an easy game. They're very organized, very diligent, very patient in attack. They're quality side. We just have to continue to find our form, just to make it happen."