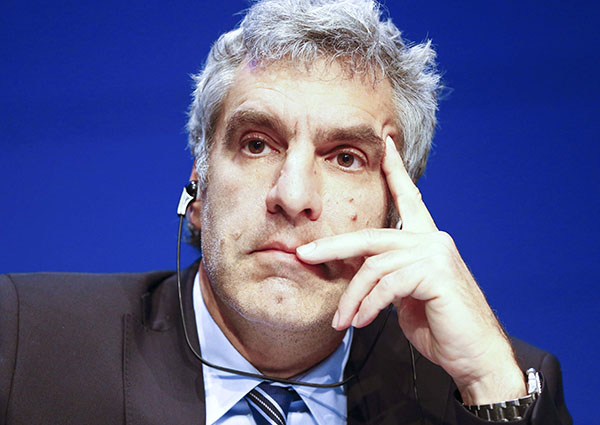 Walter De Gregorio, FIFA Director of Communications and Public Affairs listens during a news conference at FIFA headquarters in Zurich, Switzerland, May 27, 2015. Six soccer officials were arrested in Zurich on Wednesday and detained pending extradition to the United States over suspected corruption at soccer's governing body FIFA, the Swiss Federal Office of Justice said in a statement. [Photo/Agencies]
FIFA bribes exceed $150M

PORT-OF-SPAIN, Trinidad - Former FIFA vice president Jack Warner was expected to spend Wednesday night in jail after turning himself in to face an arrest warrant issued at the request of US authorities, who filed corruption charges against him and 13 others tied to international soccer.
Warner appeared in court, where a judge read eight counts against him and then granted him $2.5 million bail on certain conditions, including that he surrender his passport and report to police twice a week. Warner did not enter a plea and was scheduled to appear in court again July 12.
Police said there was a delay in processing Warner's bail and he was expected to spend one night in jail. Before turning himself in, Warner denied he had done anything wrong.
The US has two months to issue a formal extradition request, according to Trinidad's attorney general, Garvin Nicholas, who said his office had been working with the US Justice Department for about two years regarding the investigation of Warner, who was forced out of FIFA in 2011 over a bribery scandal.
In a video posted on Facebook just hours before he surrendered, Warner said, "I want to tell you, that whatever is planned for me, negatively, shall not succeed."
Warner, who is an opposition member of Parliament in the twin-island nation, can be extradited to the US under a bilateral treaty following a hearing. He also previously served as Trinidad's national security minister.
"Mr Warner is entitled to a fair extradition process and both the requesting and requested States intend to abide by the provisions of the treaty to ensure that Mr Warner's rights are respected," the attorney general said in a statement.
Earlier in the day, Warner denied any wrongdoing, as he has previously when confronted with allegations that he enriched himself while an official with the global soccer governing body and as a president of CONCACAF, the federation's North American regional organization.
Warner left soccer in 2011 to avoid FIFA sanctions during the organization's presidential election. He said he was not questioned in the investigation that led to the indictment, as well as to the guilty pleas by two of his sons on related charges.
"I have been afforded no due process and I have not even been questioned in this matter," he said in a statement. "I reiterate that I am innocent of any charges. I have walked away from the politics of world football to immerse myself in the improvement of lives in this country where I shall, God willing, die."
In a brief phone conversation with The Associated Press, Warner declined to comment further and said he did not have enough information about his sons' guilty pleas to comment. "I can't say anything about what I don't know about."
Warner represents the constituency of Chaguanas West in Parliament. His term is due to expire when the session ends June 17.
Later, he told TV6 that US authorities "know where to find me" and added "I sleep very soundly in the night."