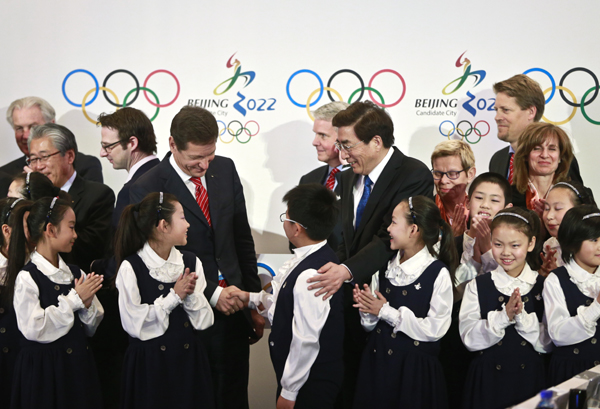 Alexander Zhukov (center left), chairman of the International Olympic Committee's evaluation commission, and Guo Jinlong, Party chief of Beijing, greet a primary school student after a wrap-up news conference for the commission's inspection visit to Beijing on Saturday. FENG YONGBIN/CHINA DAILY
BEIJING - The International Olympic Committee (IOC) Evaluation Commission has just completed their visit to Beijing, which is bidding to host the 2022 Winter Olympics with Zhangjiakou, and is pleased with what they found.
"It was clear that you embraced the spirit and goals of Olympic Agenda 2020. Our visit confirms that Beijing is capable of hosting a successful 2022 Olympic Winter Games," said Alexander Zhukov, the chief of the evaluation commission.
"This week, you have presented your concept for 2022 in a very considered and collaborative way.
"The great passion that exists here for the Olympic Games has been inspiring. For this reason I am sure that - regardless of the outcome in July - your ambitious plans for the future of Beijing and the development of winter sport in your country will be realised," he added.
During the past five days, the 19-member IOC evaluation commission visited venues in the Beijing, Yanqing and Zhangjiakou clusters that make up the city's bid plan to host the Games, and examined the 14 themes of the IOC's candidature questionnaire, which include topics such as vision, legacy and engagement, transportation, accommodation, finance and sustainability.
Beijing is in a two-horse race with Almaty, Kazakhstan, following the withdrawal of a number of bidders. On paper, the odds seem stacked in favor of Beijing.
Beijing has developed an athlete-centred, sustainable and economical Games concept, which is in line with the latest IOC reforms, and the Chinese capital will capitalize on the legacies of the successful Beijing 2008 Summer Games, including existing venues, city's well-developed infrastructure and experience of hosting major international events.
The Beijing 2022 Bid Committee confirmed that the key infrastructure required to host the 2022 Olympic and Paralympic Winter Games is already in place, supported by the region's status as a modern world-class destination for tourism and business with a strong experience in hosting international events.